Tuesday, December 04, 2018
Hellllooooo crafty friends! So glad you're popping by for Day 2 of sneak peeks! Yesterday I kicked off our Valentine themed release with several 'pretty' Valentine ideas including the beautiful Framed Roses Cutting Plate that's up for grabs to one lucky winner who answers my question of the on yesterday's post. Today's stamps and dies feature Valentine inspiration for your better half, for your gal pals, for the kids, and for the kids at heart!
Before I get to the goodies, I want to mention our special double points promotion one more time. For a limited time, you can earn DOUBLE CRAFTY POINTS on our Framed Roses Bundle which includes 4 beautiful dies perfect for Valentine's Day cards and beyond.
If you're not a Crafty Points member yet, it's free and easy to join. Just create an account at the TE webstore and you're automatically enrolled to begin earning crafty points with every purchase. With the purchase of the Framed Roses Bundle between December 6th – December 9th, you'll earn 116 Crafty Points! Don't forget to mark your calendar for Thursday, December 6th at 9 am CT when all of these new products will be available for purchase at the TE webstore!
I'm starting off today with a card I plan to give to Jon. Yep, he'll probably see it here before Valentine's Day, but he's used to that! I'm totally in love with this interactive typewriter and as a font-lover the cute sentiments make me smile. My personal favorite is 'be bold, or italic, never regular' and as you can see I couldn't resist adding bold and italic to the respective words even as I type them in a sentence. *hehe* Take a look at my process video below to see the interactive element in action!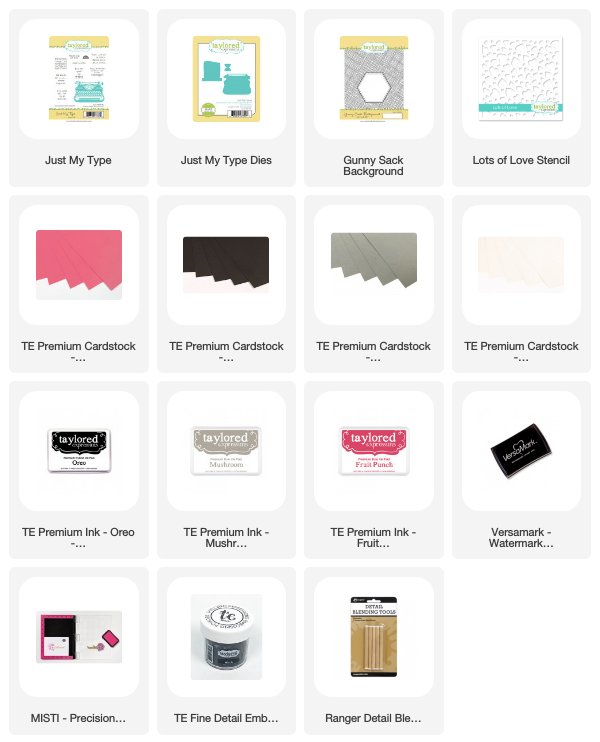 Jen Shults is also showing off the Just my Type set along with the new Subway Tiles Stencil as the backdrop. I love how she roughed up her edges and achieved a grungy look by adding embossing powder (gold and silver mixed together!) randomly on the background.
Everyone knows our beloved Sarcasti-chick, right? Well, she's getting a makeover for winter with our new Sarcasti-chick's Winter Closet stamp set! The set includes outfits for both winter and Valentine's day along with new hair and accessory options.
Angelica's starting us off with a card featuring ME! Putting away my razor is the only upside of winter (sad, but true). *giggle* She paired this cute gal with our popular Nordic Snowflake stencil from the October Release.
Angelica also created a Valentine version of our Sarcasti-chick with some perfect friend-worthy sarcasm for Valentine's Day. Do you have a friend who would appreciate a card with this sentiment?
Here at Taylored Expressions, we're known for just the right touch of snark. So of course, I couldn't resist working up these sarcastic sentiments to pair with Sarcasti-chick or any number of our previously released products. Jill Hawkins shows it combined with a cute puppy from our new Punny Notes stamp set. I love the juxtaposition of cutesy and snarky combined!
Next up, we have one of the most adorable stamp sets ever! I just can't get enough of the cuteness! The sweet images in the Punny Notes stamp set were designed to use on our collection of 3×3 notecards along with an accessory die set to create perfect borders, frames, and embellishments for each cute scene. Jill Hawkins starts off with this adorable collection of Toffee notecards with Sugar Cube accents and super sweet stitched details!
Angelica adds her bright, happy cards to mix! Each card is perfectly layered with our new Petite Scallop Square Stacklets – a must have basic to coordinate with our Stitched Square Stacklets!
Melody Rupple rounds out the collection with an adorable set of notecards featuring the 3×3 Bracket Notecard die and the add-ons from the Notecard Accessories set. Plus, check out her decorated envelopes using the Mini Mail set. Wouldn't these be perfect for little lunch box notes or Valentine's for your child or grandchild's classroom exchange?
So there you have it – that's it for today's new product features! Before I head out, I want to give you another opportunity to win it before you can buy it, by answering my question of the day!
My Question of the Day is: About how many Valentine's do you make each year? Leave your comment before Wednesday, December 5th. One comment per person. Each comment will also be entered into our Grand Prize drawing for a $50 gift certificate! Winners will be chosen at random and announced on the TE Blog on Thursday, December 6th.
Today I'm giving away the Just My Type stamp set with coordinating dies!
Make sure you check out what the rest of the Creative Team has been up to with today's featured products and we'll see you back here tomorrow for more sneak peeks!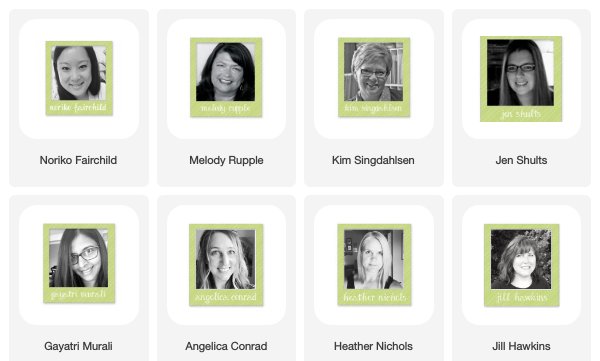 ---