Dec 05, 2018
Good morning, crafty friends! It's our last day of sneak peeks before all of the new products are available for purchase at the TE webstore so set your alarm for 9am CT tomorrow! The Creative Team and I have been sharing our Valentine-themed projects this week using lots of new Valentine goodies. The best part of Valentine products is that many of them will stretch to occasions beyond Valentine's Day. After all, is always a good time to let someone know you love them, right? With the variety of sentiments included in this release you'll be set to craft for Valentine's Day, weddings, anniversaries, 'Gal'entine's Day, hello, snarky friendship, and more!
Before we head into today's sneak peeks, I want to remind you one more time about our double-points offer. The Creative Team has done an amazing job showcasing the versatility of the four dies included in our Framed Roses Bundle. Use them in combination with each other or each on their own – the possibilities are endless! And for a limited time, you will earn DOUBLE CRAFTY POINTS when you purchase the Framed Roses Bundle! 
Between December 6th – December 9th, you'll earn 116 Crafty Points when you purchase this bundle. Crafty points can be applied to save money on a future purchase! Just make sure you're signed up for an account on the TE website to start earning points today.
My project and video for today feature the new Accordion Heart die to create a cute 3D element for your cards, gifts, and home decor projects! It's perfect to pair with the You Make My Heart Soar stamp set as each of the images floats up, up, and away. My process video below will instruct how to achieve the cloudy background and how to put together the Accordion Heart. Note: make sure you check out the rest of the Accordion Heart projects from the Creative Team as everyone used it just a little bit differently!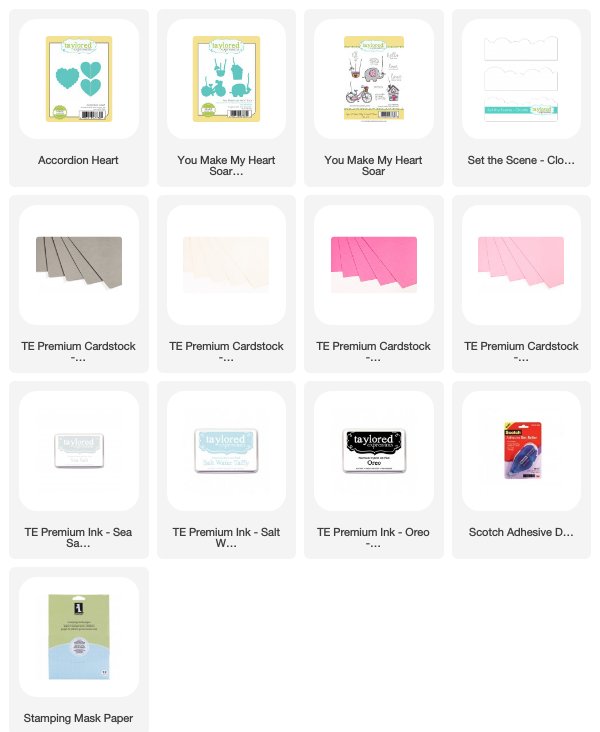 Melody used the bicycle image from the You Make My Heart Soar stamp set on her adorable card. She paired it with our new Foil It – Valentine paper pack to create foiled hills and a foiled balloon. She also had a similar idea to create a cloudy background with the stencil. Great minds think alike!
Heather Nichols shows how the Accordion Heart can be used separately from the You Make My Heart Soar stamp set as she paired it with the Brushed Hearts background on these sweet heart-shaped notecards. I love the special touch of texture with the stitches holding the hearts together!
Next up, Gayatri is bringing in all the colors of the rainbow for her bright and cute card featuring the newest addition to our Cutting Edge collection; Cutting Edge – Hearts. Her impeccable coloring and the white accents she added to each heart really make them pop!
The unique feature of our Cutting Edge series are the dies that cut across only the top of edge of each of the images. This feature allows you to tuck things into the background or create a series of stacked images like Kim Singdahlsen did on this soft card:
We're also adding to our popular series of Bubble Greetings stamps with Bubble Greetings Love & Smile! Kim bright and bold card is sure to make anyone smile! The lineup of flowers is an individual stamp that's separate from the sentiment so you could easily leave it off and even switch up the colors for a little more masculine look.
Melody Rupple paired Bubble Greeting – Love with our new Backstory – Valentine Background stamp. This background stamp is my FAVORITE "Valentine-only" product of this release. It's really only something you'll use for Valentine cards since the beautifully hand-lettered words that make up the background are specific to Valentine's Day (kisses, hugs, love always, valentine, xoxo), but it goes with everything and also stands beautifully alone as you'll see when you keep scrolling!
Jen Shults worked her ink blending magic on this card also featuring the Backstory – Valentine stamp. Now you can see how beautifully the background stands alone with just a quick little heart-shaped sentiment!
Heather Nichols & Angelica Conrad also grabbed the Backstory – Valentine Background and paired it with our new Caps Lock – Love & Caps Lock Companion stamp set to create a beautiful shaker card and fabulous eclipse card!
It's right about here that I start to get sad because we're nearing the end of sneak peeks. It's also exciting because that means tomorrow everything will be available for purchase and then soon after that, I get to start seeing your projects using the new goodies. OK – so I'm past the sad and moving on with excited! Next up we our our Lots of Love Stencil which Kim and Heather took in two completely different directions and you *must* see both of them!
I've also mentioned our Foil It – Love paper pack a few times and I definitely don't want to skip over it! You'll notice that Heather foiled a few of the patterns and die cut them using heart dies on her card featuring the Lots of Love stencil above. Foil is such a fun and simple way to add a bit of pizazz to your card and I can't think of a better occasion than Valentine's Day to step it up with a bit of shimmer and shine! One of the best features of the Foil-It patterns is the scale. The patterns are petite making them perfect for cutting smaller embellishments or using strips of foiled pattern while still being able to enjoy the look of the intended full pattern.
My Question of the Day is: What's one of your favorite romantic movies?  Leave your comment before Wednesday, December 5th at 8pm CT. One comment per person. Each comment will also be entered into our Grand Prize drawing for a $50 gift certificate! Winners will be chosen at random and announced on the TE Blog on Thursday, December 6th.
Today I'm giving away the Backstory – Valentine Background stamp!
Make sure you check out what the rest of the Creative Team has been up to with today's featured products and we'll see you back here tomorrow with all the new products and even more inspiration!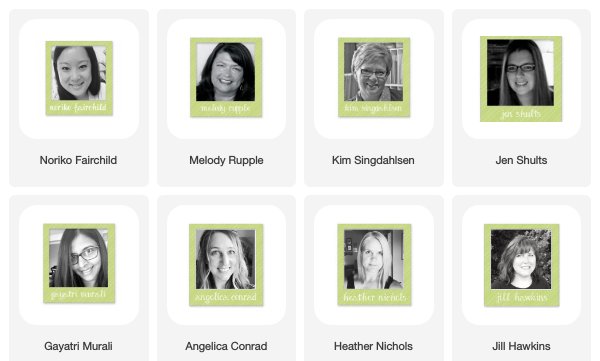 Posted by Taylor at 9:00 am
|
|
|