Tuesday, April 23, 2019
Hey, crafty friends! Do you tend to use your crafty products the same ways over and over? The thing I like to do again and again is stamping with Sugar Cube ink on Toffee cardstock for a background design. While this pretty much looks great on a number of projects, and why I keep going back to it again and again, it is fun to try something new to get a completely different look!
I am inspired all the time when I see projects from the Taylored Expressions Creative Team. I love when I see a project from one of the other TE Creative Team members and discover a new way to try out a product that I have! Today, we are continuing our One Product Three Ways this week where we took one product (a stamp set or die) and created 3 projects to show you how you can use that product at least 3 different ways. I bet you might discover a new idea or more with what we have to share!
We are featuring three projects today from Gayatri Murali using the Bold Lace Cutting Plate die. The Bold Lace Cutting Plate is sized at 4″ x 5 1/4″ to layer on a card front perfectly. The bold, but lacy design is wonderful for cards that have a more feminine or formal theme like birthday, Mother's Day, wedding, sympathy, thinking of you, and more.
Gayatri used a similar card design on each of her projects to showcase some different background possibilities with the Bold Lace Cutting Plate die. She also used the Spring Tulips Bouquet stamp set and coordinating dies on each of her projects colored with Copic markers. Let's take a closer look at what she created:
For this first card featuring pink tulips, Gayatri die cut the Bold Lace Cutting Plate die from Sugar Cube cardstock and used foam tape to pop up the cutting plate over a Sea Salt card base.
Popping the cover plate up a bit really adds dimension to the card design and using a different cardstock color underneath really makes the lace design stand out.
Instead of completely die cutting the Bold Lace Cutting Plate die, you can impress/emboss the design onto your cardstock, like Gayatri did here on this card featuring yellow tulips, using an embossing sandwich in your die cut machine. It adds a beautifully subtle texture to your project.
If you haven't embossed with your dies before, you can see how to do it in this video using the Embossing Pad Kit. Learning how to emboss with your dies make them even more versatile!
In this last project featuring purple tulips, Gayatri die cut the Bold Lace Cutting Plate die from Sea Salt cardstock and layered it onto a Sea Salt card base.
Layering the cutting plate die cut onto the same color adds a lovely dimensional texture to your background without over powering the card design. You could keep the background neutral, like Gayatri did here, or use a color to coordinate with your project .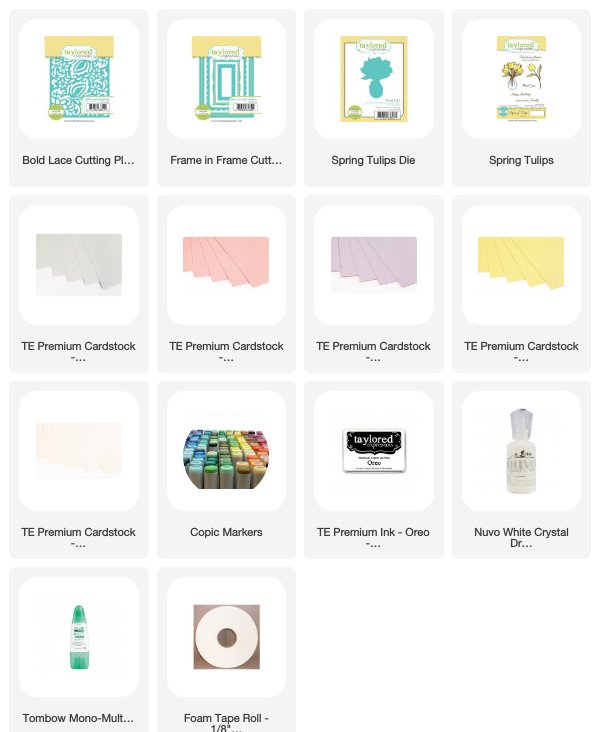 You can create lots of great looks with the Bold Lace Cutting Plate die for your projects. Here are the different ideas that Gayatri shared with you today:
Popping up the cover plate with foam tape to add dimension to your project background.
Layering the cover plate over a different color of cardstock to make the background design stand out.
Impressing/embossing the background with the cutting plate.
Layering the die cut cover plate background over the same color of cardstock.
Thank you for stopping by today! I will be back again tomorrow with another One Product Three Ways feature from Kim Singdahlsen. See you again soon!

Did you know that you can subscribe to our blog and get our posts right in your inbox? Just sign up right HERE – that's all there is to it to make sure you don't miss any of our crafty inspiration!

---