Saturday, April 20, 2019
Hey, crafty friends! If you are a mom, I bet you can relate to things like having to leave the room to laugh at something your kids did after you had to scold them for doing it or looking forward to a little me time at the end of a hectic day… maybe with a little wine added in. Sometimes all we can do is laugh at the situations we find ourselves in! That's what helps keep me sane through all that being a mother includes!
We are celebrating mothers, grandmothers, and special women in our lives with lots of inspiration for creating Mother's Day cards this week on the blog. Before we get to the projects for today, here are a few of the promotions that you can take advantage of in the Taylored Expressions webstore:
We featured some great new products in the April release perfectly geared towards making Mother's Day projects. Right now, through Sunday, April 21st, you will get a free gift along with your order of $25 or more when you purchase from the new Mother's Day products. Click below to shop!
On Thursday we introduced the Thankful for Mom Kits. We put everything together for you to create the colorful card pictured above and you can choose from the "I Want it All" Thankful for Mom Kit or the "Basic" Thankful for Mom Kit. These exclusive kits will only be available for a limited time, so pick up your kit today so you can get crafting for Mother's Day! CLICK HERE to find the kits in the Taylored Expressions webstore.
All of the projects I have to share with you today are sure to bring a smile to your face and keep you laughing. I bet you can relate to some of these cards too… I know I can!
This first card by Jen Shults is created with the new Sarcasti-chicklets stamp set and coordinating dies. I love that Sarcasti-chick is a mom and that she has piles of chicklet babies along with some very relatable and hilarious sentiments. Jen colored Sarcasti-chick and her chicklets with Copic Markers and added them to a color blended background. The sentiment on this card about winging it is so true and is me every single day! Sarcasti-chick will keep you, your mom, and other mom friends laughing on Mother's Day for sure!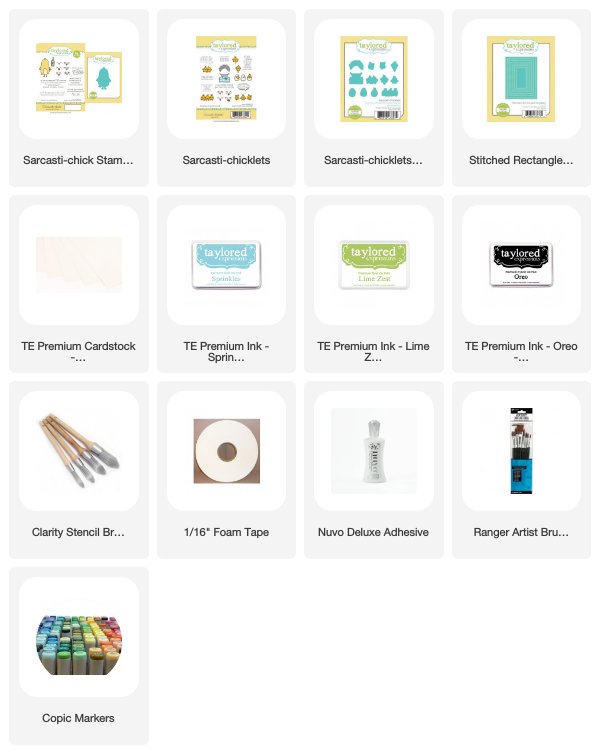 Here's a perfect Mother's Day card if you have siblings… or how funny would this be to give to your mom if you are an only child! Sankari Wegman created this card using a sentiment from the My Favorite Mom stamp set (you seriously need to check this set out because all of the sentiments are hysterical!) along with the elephant images from the Mama & Me stamp set. Sankari stamped the baby elephant several time and cleverly added them holding on to the other baby elephant tails.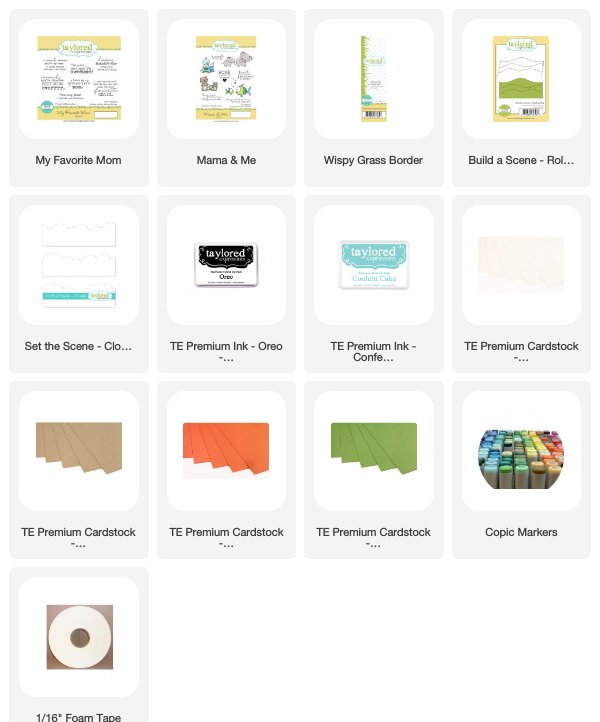 This next card by Jean Manis is all about that me time I mentioned earlier! Jean used the Choosy Moms stamp set and paired the sentiment with a wine bottle and glasses created with the Little Bits – Wine die collection. The Choosy Moms stamp set includes 6 different and honest sentiments about what it really means to be a mom. I bet you might know some mom friends that would appreciate receiving these snarky sentiments for Mother's Day!

Finally, here's a mom truth card for Mother's Day created by Keia Shipp-Smith. I think most of us have had this thought at one time or another! This sentiment is also a part of the snarky, real life Choosy Moms stamp set and Keia added clothes, baskets, and a trash can using Little Bits – Clothing Confetti, Little Bits – Laundry Basket, and Little Bits – Trash Can dies.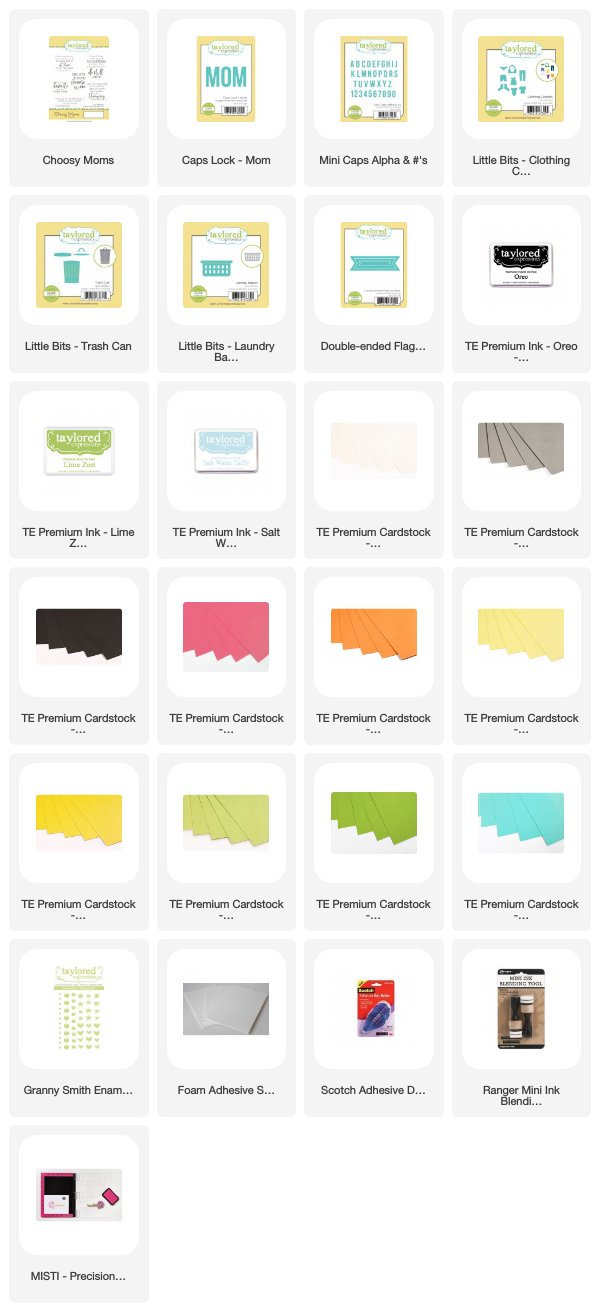 Don't forget that there is a SALE right now in the Taylored Expressions webstore today through April 21, 2019. Purchase any select Easter/spring product* and you can pick another select spring/Easter product* of equal or lesser value for 50% off. Now is definitely the time to grab some of those sets that you have had your eye on!
*Easter/spring items included in the sale can be found in the special Easter/spring sale category. Click below to view the products and shop!
I hope you feel inspired and motivated to create for Mother's Day after all of the projects that we shared this week. What was your favorite project that we featured this week? I will be back next week with some new crafty inspiration to share from the Taylored Expressions Creative Team. You won't want to miss it!
Did you know that you can subscribe to our blog and get our posts right in your inbox? Just sign up right HERE – that's all there is to it to make sure you don't miss any of our crafty inspiration!

---