Jun 11, 2019
Hey, crafty friends! What did you think of all of the great new products for the June release? There were lots of favorites for me for sure! One set I am pretty excited about is my new Craftiness is Happiness stamp set. If you missed the news, this is the first set in the new Clearly Crafty collection of clear stamps that is making its debut at Taylored Expressions.
The card I shared during the release featuring the Craftiness is Happiness stamp set includes a background design that I created using the emboss resist technique and ink blending to create the rainbow stripes. I thought it would be fun to use that crafty background on another card design and share how I created it with you in a video.
The emboss resist technique is one of my favorites to do! A few tips I shared in the video: stamp your main sentiment first so that it will show through the clear embossing and ink layers, overlap your color blends to create new colors, and use a paper towel or tissue to wipe the embossed images after you are done applying color to clean them up.
I used Fruit Punch, Pineapple, and Cookie Monster inks to create a rainbow effect on this project with an ink blending tool. You can swap out colors to create different gradient and ombre effects. I also added more stamping and ink splatters for even more texture and interest!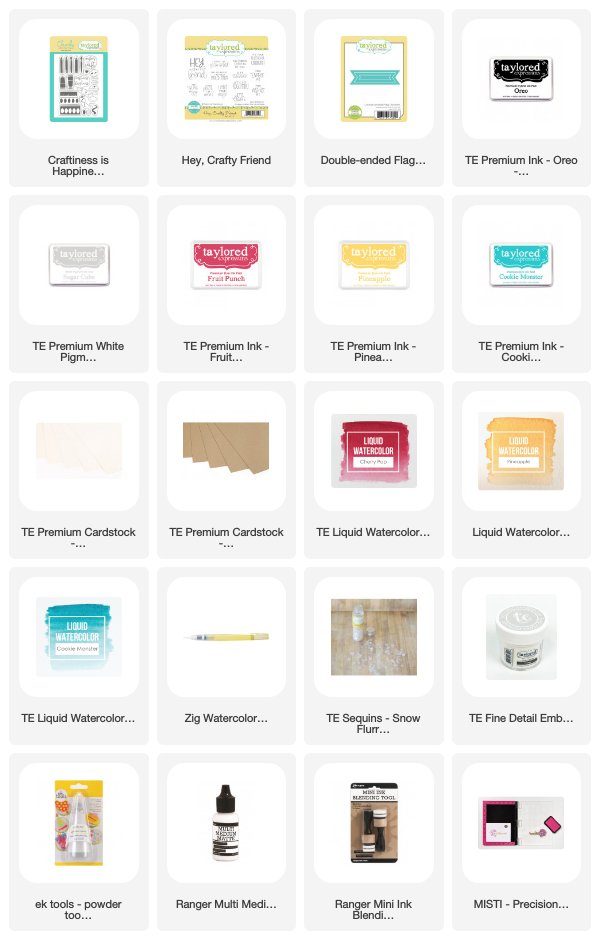 Thank you so much for joining me today! I will be back a little later in the week with a project from Taylor to share so make sure you stop by again!
Did you know that you can subscribe to our blog and get our posts right in your inbox? Just sign up right HERE – that's all there is to it to make sure you don't miss any of our crafty inspiration!