Dec 12, 2019
Hey, crafty friends! Did you take a peek at the TE 2019 Holiday Gift Guide yet? I bet there were a few things in there that you have been longing to add to your own crafty stash… am I right? One of my favorite products featured are the Masking Stencils. These stencils rank up high on my list of crafty must haves for sure! They have taken creating backgrounds and layers up to a new level of awesome on your projects. If you own the Masking Stencils or have tried them out at all, you know exactly what I am talking about.
Watch the video below to see the larger circle from the Masking Stencils – Circles collection in action to create the fun and magical background on my project:
Using the Masking Stencils – Circles made creating the circular rainbow background with sparkly stars so quick and easy. The Masking Stencils feature a guide for an A2 card front so the circle is lined up perfectly on your project with no measuring needed!
I used Blender Brushes to create the rainbow blend with the Masking Stencil using only three colors of ink: Guava, Pineapple, and Cookie Monster. I overlapped the colors to create the orange and green tones in the blend.
I layered the Scattered Stars stencil over the top of the Masking Stencil and used a spatula to apply Moonstone glimmer paste through the stencil to create the sparkly star design over the rainbow blend.
Isn't that magical background the perfect background for the little pegasus from the Dreamer set? I added a sentiment that I previously stamped using the Simple Strips – Birthday stamp and the coordinating Simple Strips die. I love having a pile of sentiments ready to go for projects!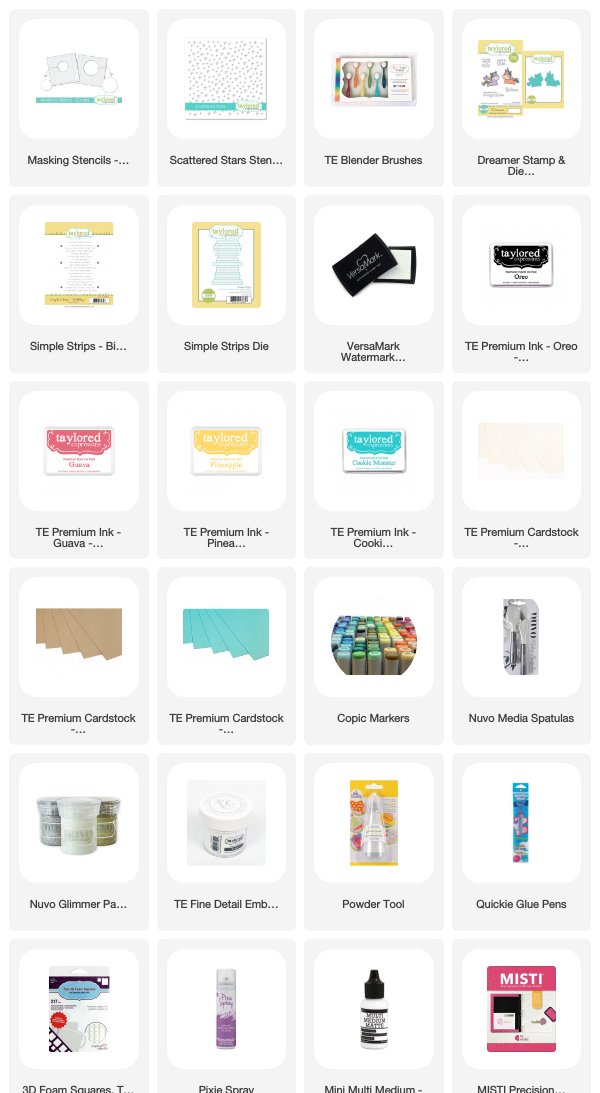 Don't forget to take advantage of the promotion that is going on in the Taylored Expressions webstore:
When you make a purchase of $100 or more now through Thursday, December 19th, you will receive a coupon redeemable for $20 off any order placed in January 2020. *limit one coupon per customer*
'Tis the season for giving, right!? We are also giving away three 2019 Holiday Gift Guide bundles during our "Pick Your Present Giveaway". Click below to check out the special bundles and make your selections. The giveaway runs now through Thursday, December 19th and winners will be announced here on the blog on December 20th!
Thank you so much for stopping by the TE blog today. I will be back next week with more crafty inspiration featuring products from the 2019 Holiday Gift Guide to share!
Did you know that you can subscribe to our blog and get our posts right in your inbox? Just sign up right HERE – that's all there is to it to make sure you don't miss any of our crafty inspiration!