Tuesday, December 17, 2019
Hey, crafty friends! Here at Taylored Expressions, we don't take ourselves too seriously and we know what good medicine a bit of laughter can be! One of the things that we are known for here at TE is our collection of products that have a bit of a snarky and sarcastic spin to them. There are the ever popular Grumplings, Big Grumpy himself, the ever sassy Sarcasti-chick, and lots of sentiments sprinkled throughout our product collections that are sure to put a smile on your face.
Our line of sarcastic and snarky products definitely had to be a part of the 2019 Holiday Gift Guide! I know that you probably have friends and loved ones who would appreciate creating with or receiving a card featuring our snarky friends and sentiments.
Today, I am featuring the Sarcasti-chick collection and created a notecard set that is perfect for gifting to a friend or maybe keep them for yourself to mail out to those special friends! *wink* Watch the video below to learn more about the Sarcasti-chick collection and see how I created my notecard set:
I definitely had to have a bit of fun sharing the Sarcastic-chick collection with you. I hope you enjoyed my attempt at bringing Sarcastic-chick to life!
Here's a closer look at the cards I created in the video:
I colored the Sarcastic-chicks for my projects with Copic markers, but you could use any favorite coloring medium. Colored pencils, watercolors, markers, and more are all great options!
It is so much fun to dress Sarcastic-chick up with her different outfits and accessories. You can get her ready for just about any occasion!
For my notecard set, I created a neutral background using the Polka Party stencil with Sugar Cube ink on Toffee cardstock. I added the different Sarcasti-chick characters that I created to the cards using foam squares to pop them up a bit, stamped a fun and snarky sentiment in black ink, and then added a few sequins, confetti, or glitter to add a bit of sparkle.
I decided that I want to keep these cards on hand to send out to some friends who I know will be able to relate and find some humor in these cards. We all need something to laugh at in the middle of life's craziness!
Check out all of the products in the Sarcasti-chick collection: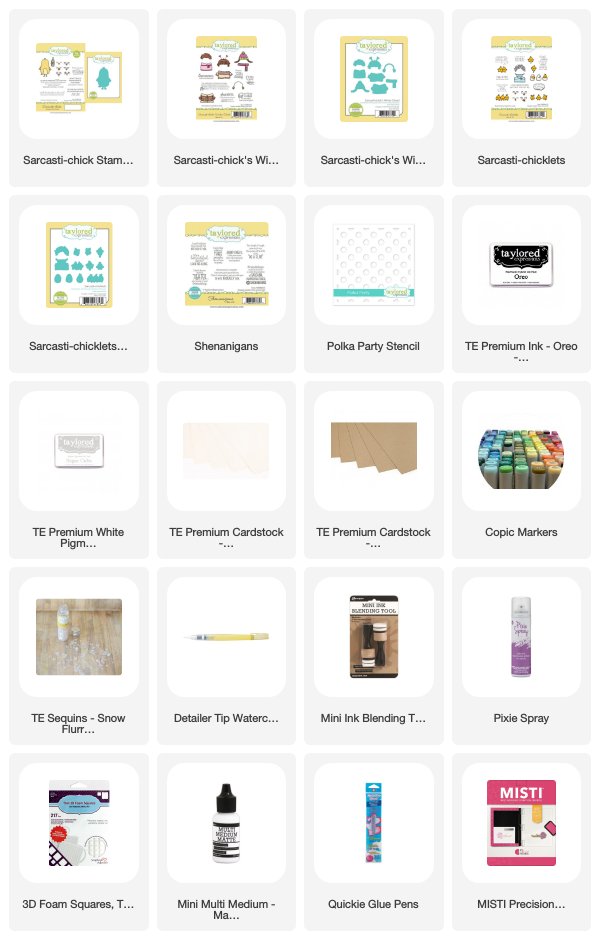 Don't forget to take advantage of the promotion that is going on right now in the Taylored Expressions webstore:

When you make a purchase of $100 or more now through Thursday, December 19th, you will receive a coupon redeemable for $20 off any order placed in January 2020. *limit one coupon per customer*
'Tis the season for giving, right!? We are also giving away three 2019 Holiday Gift Guide bundles during our "Pick Your Present Giveaway". Click below to check out the special bundles and make your selections. The giveaway runs now through Thursday, December 19th and winners will be announced here on the blog on December 20th!
Thank you so much for stopping by the TE blog today. We have more 2019 Holiday Gift Guide inspiration coming your way a little later this week, so make sure you take time to come back and check it out!
Did you know that you can subscribe to our blog and get our posts right in your inbox? Just sign up right HERE – that's all there is to it to make sure you don't miss any of our crafty inspiration!
---