Thursday, December 19, 2019
Hey, crafty friends! We have one more day of 2019 Holiday Gift Guide inspiration to share with you today. Today's focus is adhesive. Something all of us crafters could not create without. Specifically, Taylor created a super fun shaker card to share with you today using our new Foam Sticky Strips.
At first glance, the card looks fairly complicated to complete. I have done my fair share of foam tape finagling in my years of crafting to create shaker cards. A card like this with multiple shaker compartments? That would take some expert foam tape engineering skills for sure! But, (and you shaker card fans out there are going to LOVE this) the new Foam Sticky Strips make a project like this easy. That's right, I said EASY!
Watch the video below to see how you can create this multiple compartment shaker card in no time at all:
I personally have loved using the Foam Sticky Strips for adding the Simple Strips sentiments to my projects, but the possibilities for using this adhesive to create a card like this just takes it up to the next level.
I love how Taylor separated the different colors of sequins to create a rainbow shaker behind the Basketweave Cutting Plate die cut. She used her rainbow shaker to create a birthday card, but you could create multi-colored rainbow shakers for so many different occasions. Just swap out the sentiments and customize the colors for the recipient and/or event that you are creating the card for.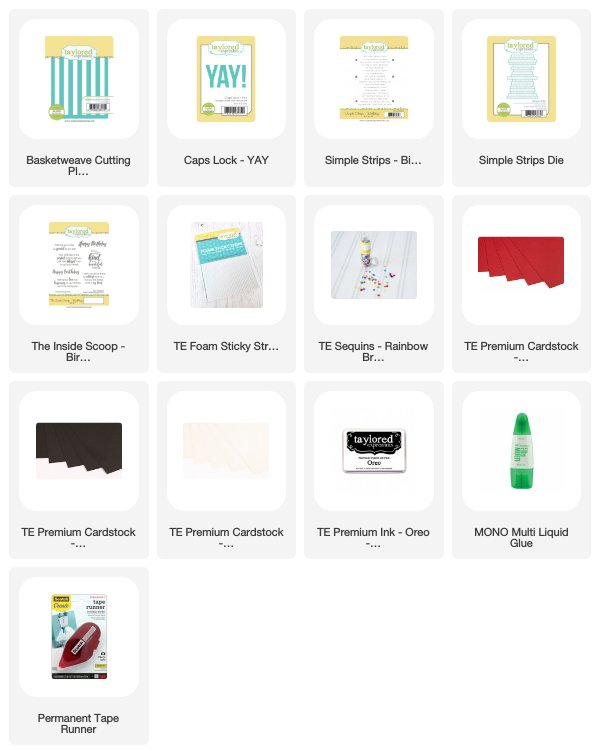 Today is the last day to take advantage of our 2019 Holiday Gift Guide promotion that is going on right now in the Taylored Expressions webstore:
When you make a purchase of $100 or more now through Thursday, December 19th (that's today!), you will receive a coupon redeemable for $20 off any order placed in January 2020. *limit one coupon per customer*
'Tis the season for giving, right!? We are also giving away three 2019 Holiday Gift Guide bundles during our "Pick Your Present Giveaway". Click below to check out the special bundles and make your selections. The giveaway runs now through Thursday, December 19th (that's today!) and winners will be announced here on the blog on December 20th!
Thank you so much for stopping by the TE blog today and we hope you enjoyed all of the inspiration from the 2019 Holiday Gift Guide as much as we enjoyed creating it. Best wishes for last minute errands and projects as you prepare for the holiday week ahead!
Did you know that you can subscribe to our blog and get our posts right in your inbox? Just sign up right HERE – that's all there is to it to make sure you don't miss any of our crafty inspiration!
---