Feb 20, 2020
Hey, crafty friends! It's Taylor here again! I hope you've enjoyed all the inspiration for release week! If you've been tuning in this week, then you know that all of the new goodies that are part of our February Release have been available for purchase since Tuesday! Some of you will probably start getting your packages today and I can hardly wait to see what you create! If you haven't been able to check out the new goodies yet, click below to see them all!
Our Hop to It Cling & Clear Background stamp hopped right out of our warehouse in record time, but we're still offering the limited-time promotion through the weekend! Order your Hop to It bundle today at the discounted price and we'll begin shipping the preorders March 9th.
Purchase the Hop to It bundle and receive 15% off the three items included! The Hop to It collection includes the Hop to It Background stamp, the coordinating Hop to It die, and the Mini Strips – Easter stamp. This offer is valid Tuesday, February 18th – Sunday, February 23rd.
The new products we're showing off today are part of our religious Easter offering, but many of them can be used for other religious occasions like baptism, confirmation, first communion, and sympathy.
In today's process video, I'll walk you through how I created the beautiful backdrop for this project and I'll share my little experiment in creating the sun rays peeking out from behind the church silhouette.
Here's a closer look at the new products that I used in the video:
The Church on a Hill die features a quaint steeple church nestled in between evergreens on a rolling hillside. The set also includes a solid die piece to easily create a fill for the windows and door of the church. The Handlettered Hymns stamp set is the perfect companion for the church, featuring verses from various hymns in a beautiful hand-lettered script.
I also share one of my favorite tips in the video – die-cutting silhouettes from Sugar Cube cardstock and adding color with blender brushes and ink. It's quick and simple and gives a softer look than when the die is cut from solid cardstock.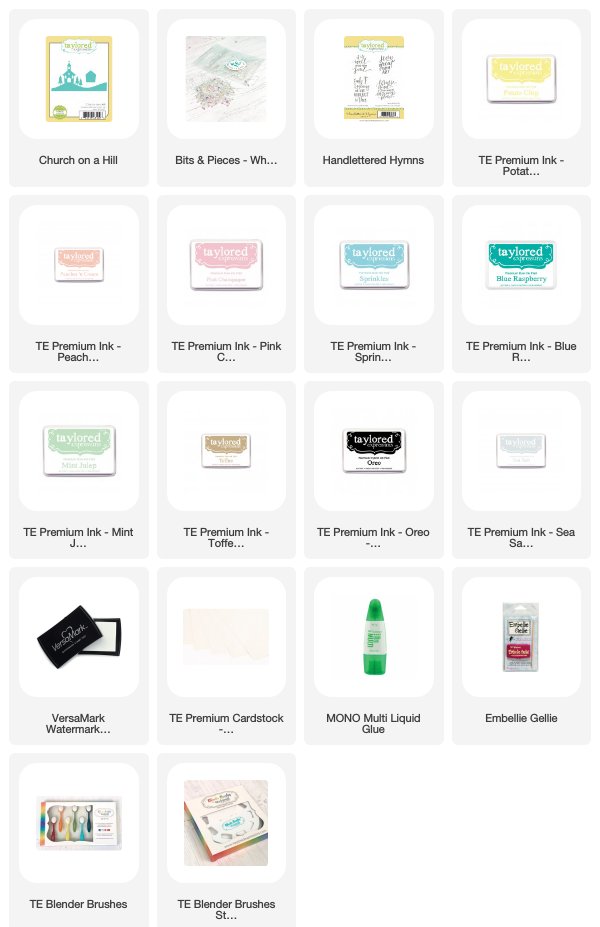 Here's one last round of inspiration from the Creative Team for this month's release:
Jen Shults gave a completely different and striking look to the Church on a Hill die by cutting it from Oreo cardstock and layering over a sunset-inspired background. She added an Easter sentiment using the Tag Team – Easter stamp set and coordinating Tag Team die.
The Big Cross stamp features a beautifully detailed cross that can be stamped and colored in or simply embossed in a metallic color. The coordinating die cuts around the cross, but also includes an extra detail to add a frame around the stamped image.
Noriko Fairchild stamped and embossed the Big Cross stamp over a beautiful blend of blues and greens. She framed her cross with a sparkly silver paper that really makes the cross pop. The blended sentiment strips were created with the Mini Strips – Easter stamp and die cut with Mini Strips – Asymmetrical die.
The Spring Fling Layered Stencil set includes three stencils that are designed to layer together to create a pretty floral design. The stencils include square alignment guides that enable you to line everything up perfectly.
The pretty floral design created with the Spring Fling Layered Stencil set is perfect for an Easter card like this one by Noriko Fairchild. I really love how she foiled the last layer to add a bit of shine to the flower centers!
We love the idea of dressing up the lantern from the All is Bright set for different seasons, so this month we bring you the springtime All is Bright Additions stamp & die combo set.
Heather Nichols dressed up her lantern with flowers and leaves from the All is Bright Additions set. She added blending behind the lantern to set it aglow and added the 'be the light' sentiment into the lantern opening.
Last, but not least, the Aflutter stamp set features a cluster of butterflies and several sentiments to send your thoughts and prayers to a loved one. Butterflies are viewed around the world as a sign of resilience and strength and a card featuring these beautiful butterflies would be a heartfelt token during difficult times.
Gayatri Murali created a bright and colorful rainbow of butterflies on her card! I love the shimmer of the Bits & Pieces – Drip Drops scattered throughout the butterfly cluster. She also added an interesting highlight to the sentiment by using a ruler to trace lines of varying lengths underneath.
That wraps up the February release inspiration for this week, but you can bet I'll be making and sharing more projects with the new goodies that I haven't had a chance to use yet! You can check out more projects created with today's featured products by clicking on the faces of our Creative Team below. Thank you so much for joining us this week! It won't be long and we'll be back with more to share!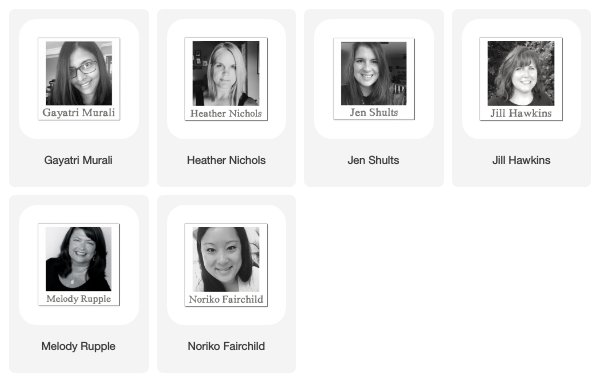 Posted by Taylor at 9:00 am
|
|
|