Jun 16, 2020
Hey, crafty friends! It's Heather here today! It's release day and all of the new cat themed products you got a look at yesterday are available to purchase right now! I loved scrolling through the comments yesterday and reading about the special cats that all of you shared about. I have several of my own cats and they all definitely hold special places in my family's heart.
Before we get to the ins-purrrrr-ation for today, I want to remind you about the fun promotion happening for this release:
Today, June 16th – Sunday, June 21st (or while supplies last), spend $35 or more in the Taylored Expressions webstore and receive a set of Max & Millie vinyl stickers FREE. Spend $75 or more and you will receive the vinyl stickers PLUS a the Cattitude clear stamp set!
Keep scrolling for today's video and more project inspiration, or click below to head over to the TE webstore to shop for the new products!
The release has 6 new products including stamp sets, dies, and an addition to the popular Simple Strips collection.
Everything is available at the TE webstore RIGHT NOW! We are currently shipping orders Monday – Thursday and our turnaround time is as speedy as ever!
Receive FREE shipping on orders of $50 or more in the United States!
Earn a free, exclusive stamp set with purchases of $100 or more.
The card I have to share with you today is perfect for celebrating all things cat! I know that all of you out there know someone who this card would be perfect for. Watch the video below to see how I created this card from start to finish:
In the video, I share how I created my own stencil using the new Silhouette – Cats die collection for the background on my card. I also share how I did masking to add the stamped paw prints from the Whiskers stamp set in the background and make them look like they are behind the stenciled cats.
Here's a closer look at the products that I shared in the video:
The new Silhouettes – Cats die collection includes three dies of cats in classic poses: cleaning, walking, and sitting. There are so many different ways to use these cats!
Calling all Cat Lovers! The Whiskers stamp set includes a trail of paw prints with several purr-fect sentiments for occasions both happy and sad.
Simple Strips – Meow is the newest in the Simple Strips collection! Stamp 18 cat-themed sentiments in one impression and then die cut them all with one pass through your die cut machine using the coordinating Simple Strips or Simple Strips – Well Rounded dies. Each of the dies coordinates with ALL previously released Simple Strips sets.
I chose inks that I thought would make good cat colors – Poppy Seed, Honey, and Toffee – and I used my Blender Brushes through my cardstock stencil to add the cats to the background on my card. I added a few splatters before I removed my stencil using Sugar Cube ink refill and Chocolate Truffle liquid watercolor to add a bit more texture and dimension.
The sentiments are from the new Simple Strips – Meow stamp. I embossed the sentiments in white on Poppy Seed and Honey cardstock and stamped the sentiments in Oreo ink on Sugar Cube cardstock. The sentiments are cut out with the coordinating Simple Strips die and I added one of each color to my card.
Check out the supply list below for what you need to create this project: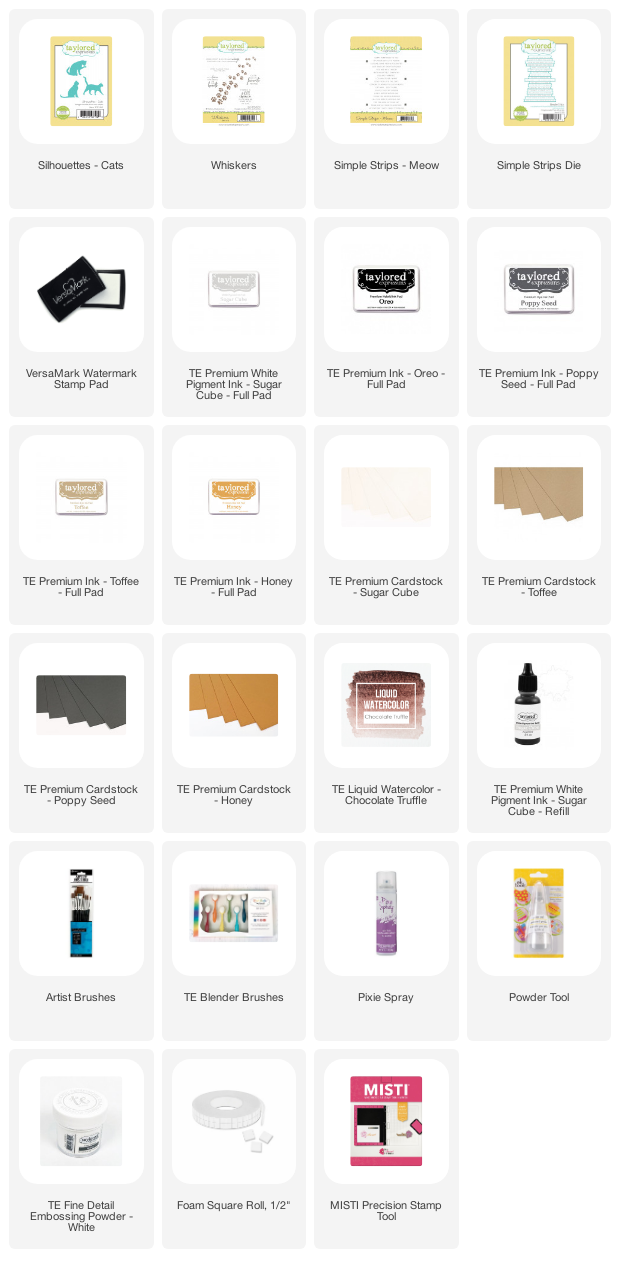 Here's more inspiration from members of the TE Creative Team using the new products from this release!
The Loyal Friend stamp set has just the right words to express your sympathy for the passing of a beloved cat or dog. The set features two sentiments (one for the inside of the card and one for the outside). These types of cards can often be difficult to create, but they will definitely touch the heart of those who are feeling this deep loss.
Melody Rupple created a sympathy card using the Loyal Friend stamp set to give to someone who has experienced a loss of a cat. She used the paw print stencil from the Puppy Love Layered Stencil set for her background using Sea Salt ink and cardstock for a soft tone on tone look. To give her symapathy card a more formal look, Melody added the feather image along with the sentiment and a cat die cut in dark gray and black.
The new Max & Millie stamp set features the cat (Max) and mouse (Millie) duo that are sure to bring a smile to your face! The full-size stamp set also features a set of coordinating dies to cut perfectly around the images.
If you have a cat, I know you have seen this 'meh' look from them at some point! All my cats do it! Jen Shults captured the look perfectly on her card created with the new Max & Millie stamp set. That background is created with the 3/4″ Striped Stencil Set and I especially love how Jen did the baker's twine to look like whiskers!
Jill Hawkins used the cute Millie mouse and cheese cart on this card created with the Max & Millie stamp set. How cute is that background created with the Masking Stencils – Circles stamp set and the Polka Party stencil? It looks like cheese!
Here's another cute card from Jill Hawkins created with the Max & Millie stamp set. She colored up the cute Max the cat in a flower pot image with her Copics and added it to a white background that is embossed with a few simple lines. This clean and simple design would delight anyone who received it in their mailbox!
And now it's time to check in with the lucky winners! If you find your name and comment listed below, please contact us with your mailing address and your selected 'favorite product' (must be one product, sorry… not a bundle) and we'll get your prize in the mail right away! Congrats to all the prize winners!
Join Taylor live for "T Time" at 1pm Central today on the Taylored Expressions Facebook Page. She'll be taking a closer look at all of the new products in this Cat Lovers release and we hope to see you there!
That wraps up all of the inspiration that I have to share! We hope you think it's the cat's meow! Stop back at the TE blog soon for another special release peek coming your way on Thursday. See you then!