Aug 17, 2020
Hey, crafty friends! It's Taylor here today and I have a new collection of products that I'm super excited to share! Have you been following the new slimline card trend? I love the look slimline cards, but I must admit I found myself a little intimidated by all the space on a traditional slimline. So instead of diving into the slimline trend, my product development team and I started to dream about an equally slim, yet slightly shorter card size. And today I'm excited to introduce you to our Mini Slim collection including dies, stencils, and 16 different colors of envelopes. The envelopes match our current cardstock colors and are sized perfectly to fit a Mini Slim card!
The Creative Team and I have been busy creating with the NEW collection and we have so much to share with you! Here's an 'at-a-glance' look at our Mini Slim Release and what we'll be up to here on the TE Blog this week:
The release has 24 new products including dies, stencils, envelopes, and more that coordinate with our unique Mini Slim size card (3 1/2″ x 6″).
Everything we're sneak peekings today will be available at the TE webstore on Tuesday, August 18th at 9am CT (Yep, that's TOMORROW!).
Our TE blog posts this week (Monday & Tuesday) will feature a new how-to tip, technique, or process video.
Get a chance to win it before you can buy it by commenting with your answer to my Question of the Day today only (located at the bottom of this blog post)
Last, but certainly not least – you won't want to miss the special offer for this release (details below).
Tomorrow through Sunday, August 23rd, the more you purchase of the new Mini Slim Trim-fold Card Bases and/or Mini Slim Envelopes the more you save!
Buy 3-5 Trifold Card Bases or Envelopes, save 10% on each
Buy 6-8 Trifold Card Bases or Envelopes, save 15% on each
Buy 9+ Trifold Card Bases or Envelopes, save 20% on each
So what size is a Mini Slim card? Great question! Mini Slim cards measure 3.5″ x 6″. For today's project, I'll be sharing the stencil template and set of dies that were designed to cut a double-window into our Mini Slim Trifold cards. The pre-scored card bases and the Mini Slim Trifold Template make it super easy to align the windows perfectly before die-cutting. Check out the video below and you'll see just what I mean:
After die-cutting the double window, there are so many different way you can decorate the three panels. I chose to use the On the Dot stencil on the front and stamp several party streamers on the inside to show through the window opening.
I added two balloons from the If Balloons Could Talk stamp and die combo and two sentiments from the same set.
These tri-fold windows are easy to create and make an extra special card for the recipient to open. And if you're not feeling like making a tri-fold card, simply create a mini slim size card with a traditional fold down the center.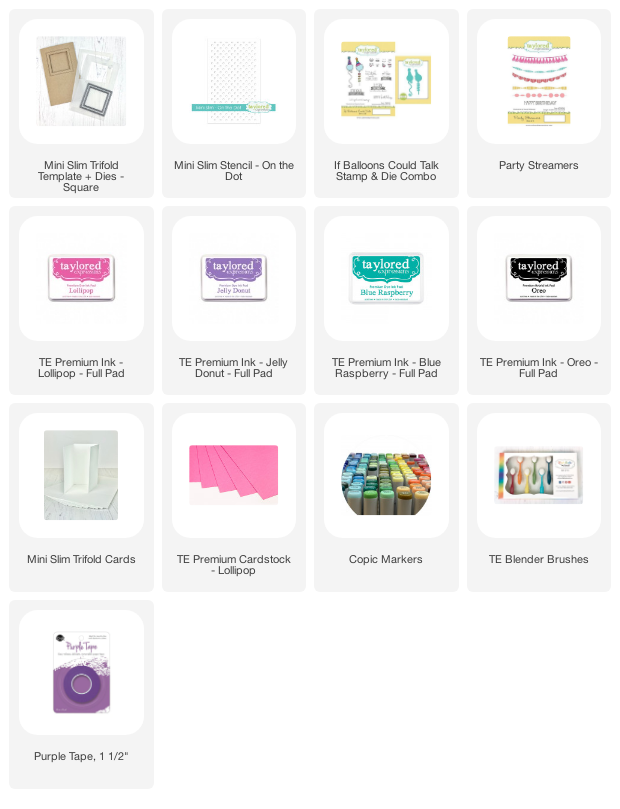 Now that I've shared my project, let me tell you a little bit more about all of the new products in the Mini Slim collection plus share lots of inspiration from the Creative Team!
You just had a look at the new Mini Slim Trifold Template + Dies set in the video. The set includes 2 stencil templates with two sizes of square openings. The stencils will guide you in die-cutting the layered windows into a Mini Slim Trifold card. You can use this with our pre-scored trifold card bases (available in Toffee & Sugar Cube) or create your own trifold card base. Simply cut a piece of cardstock to 6″ x 10.5″ and score on the long side at 3.5″ and 7″.
Heather Nichols used a Toffee Mini Slim Trifold Card Base (of course) for her project using the Mini Slim Trifold Template + Dies – Square set. The cute bear from the Simply Smitten stamp set is peeking through the layered windows on the card. She added sentiments, stenciled polka dots, and die-cut details on the different layers for sweet surprises as the card is opened.
Jen Shults created her own trifold card base with Confetti Cake cardstock. The Confetti Cake cardstock was perfect for the under the sea theme on her card featuring the O-Fish-Ally Awesome stamp set, Bubbly stencil, and Build a Scene – Underwater die collection.
We couldn't forget about Masking Stencils for the new Mini Slim size so we have this set of square and circle windows with etched alignment guides to line up your mini slim card base. As mentioned above, the Mini Slim card base measures 3.5″ x 6″. After aligning the card base with the etched markings, apply color through the stencil openings to create a lineup of three circles or squares. Use the included solid circles and squares for even more masking options!
Noriko Fairchild used the square windows stencil in the Masking Stencils – Mini Slim Windows set across the background of her Mini Slim birthday card featuring the Gus & Gertie stamp set. She added cute paw print details using the paw print stamp from the Puppy Love Layering Stencil over the top of the square windows masking stencil. Noriko created her own Mini Slim sized card base by cutting a piece of Pineapple cardstock 6″ x 7″, scoring at 3 1/2″ along the 7″ side, and folding the cardstock in half.
Jill Hawkins broke out the Mythical Grumplings stamp set to create this cute and funny card to let a loved one know how much you 'myth' them. She added circles across the card background using the circle window masking stencil from the Masking Stencils – Mini Slim Windows set. The polka dots stenciled in the circles are created using a new Mini Slim sized stencil you will learn more about below!
We are starting out the Mini Slim stencil collection with two classic patterns that you will love having in your collection and find yourself reaching for over and over! The Mini Slim – On the Dot stencil features a classic polka dot pattern and the Mini Slim – Zig Zag stencil features a chevron pattern.
Melody Rupple let the polka dots from the Mini Slim – On the Dot stencil shine on this flowery birthday card. Melody first stenciled circles using the new Masking Stencils – Mini Slim Windows set and then masked those off before she added the rest of the polka dot background. The circles created with the Masking Stencils – Mini Slim Windows set were the perfect place to add flower clusters created with the Bouquet Whimsy stamp set.
Jill Hawkins used her Blender Brushes to blend up a rainbow with the Mini Slim – Zig Zag stencil for the background on her card featuring the Dreamer set. Jill stamped the unicorns and pegasus through the circle windows stencils from the Masking Stencils – Mini Slim Windows set and then masked them off before she added the stenciled background. I love that Jill added tiny iridescent stars around the unicorns and pegasus for a bit of sparkle with the Bits & Pieces – Sparkly Stars embellishments.
You will love adding perfect layers to your Mini Slim products using these two versatile die collections. The Stitched Mini Slim Stacklets die collection cuts out rectangles with a stitched edge detail and the Petite Scallop Mini Slim Stacklets die collection cuts out rectangles with a delicate scalloped edge.
Gayatri Murali created this fun outer space scene using the Space Cadet stamp set and Set the Scene – Clouds Stencil Strips set and then die cut it out to perfectly size it for her Mini Slim card using a die in the Stitched Mini Slim Rectangles die collection. I love all of the splatters and Bits & Pieces – White Rhinestones that Gayatri added to complete her galaxy look!
Melody Rupple layered a few of the new Mini Slim dies together on her mermaid Mini Slim card created with the Be a Mermaid stamp set, Build a Background – Waves set, and Here Comes the Sun stencil. I love how Melody used a few products designed for the A2 card size and adapted them for the new Mini Slim size!
And finally, we are offering the Mini Slim Trifold Card Bases in Sugar Cube and Toffee (both in packages of 10) as well as Mini Slim Envelopes (package of 10) in an array of 16 colors to match several of our most popular cardstock colors: Sugar Cube, Toffee, Pumpkin, Peapod, Jelly Donut, Poppy Seed, Cherry Pop, Strawberry Milkshake, Lollipop, Candy Corn, Lemon Meringue, Granny Smith, Cookie Monster, Watermelon, Sweet Basil, and Sprinkles.
So there you have it! Our new Mini Slim products will be available for purchase starting tomorrow at 9am Central Time, but before I head out for today, you have a chance to win it before you can buy it! Just comment below and let me know:
What intrigues you most about this release? Do you have a favorite product? What's the first thing you're feeling inspired to try?
I'll choose three lucky winners to receive their favorite from this release!
Simply leave your comment by TONIGHT, Monday, August 17th at 10PM Central Time. One comment per person. Winners are chosen at random and will be announced on the TE blog on release day, tomorrow, August 18th!
Make sure you check out the rest of the Taylored Expressions Creative Team projects using the new goodies from this release! And then I'll see you back here tomorrow with more inspiration as all of the products go live!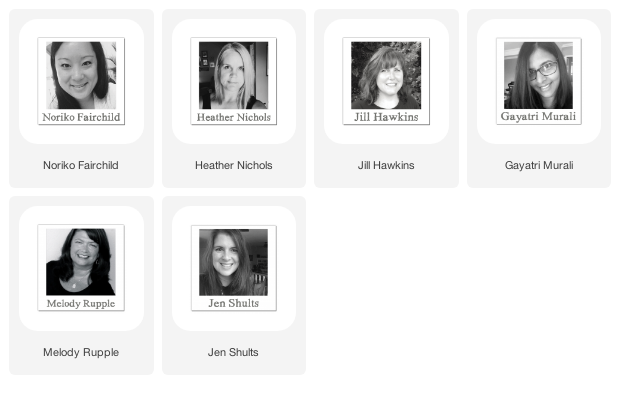 Posted by Taylor at 9:00 am
|
|
|