Monday, September 21, 2020
Hey crafty friends, it's Taylor here today! It's certainly starting to look and feel a lot more like fall lately and while I'm still a bit confused as to where summer went, I do love the fall season – the cool temps, the warm drinks, and the beautiful leaves! And speaking of beautiful leaves, I'm popping in today to introduce our new fall-themed products which happen to feature lots of beautiful leaves!
So make a note to tune in for new product inspiration this week as the Creative Team and I have been busy creating! This release includes 6 new products – two new Stamp & Stencil Combo sets, a new handlettered sentiment set with coordinating dies, a Thanksgiving themed addition to our Tag Team collection, and a mini kit to create cute felt pumpkin pouches.
Here's what you'll find when you tune in on the blog this week:
Our blog posts (Monday – Thursday) will feature a video showcasing the new release products.
New products will be available for purchase starting tomorrow at 9am CST at the TE webstore!
Get a chance to win it before you can buy it by commenting with your answer to my Question of the Day today only (located at the bottom of this blog post)
Last, but certainly not least – take advantage of our special offer for this release (details below).
Tomorrow through Sunday, September 27th (or while supplies last) get the Modern Tree Stamp & Stencil Combo set for only $30 – you save $5 off the regular retail price!
For today's video, I grabbed the Modern Tree Stamp & Stencil combo and go busy creating these two fall-themed cards. They came together quickly and easily with the help of the coordinating stencil layers
I started by stamping the bare tree trunk and the full leafy tree image onto Sugar Cube cardstock. Then I lined up the stamped tree trunk with the etched alignment guide on the stencil to quickly and easily blend each different leaf layer.
With these projects, I've shown how to use the stencils to quickly create the multi-colored leaves, however, if you love coloring, then skip the stencils and use your favorite coloring medium (watercolor, colored pencils, Copic markers) to color in the outline image of the tree.
To finish off the cards, I cut the stamped/stenciled panels with the Stitched Rectangle Stacklets, added the 'thank you' sentiment at bottom right, and tied a bit of burlap twine around the bottom.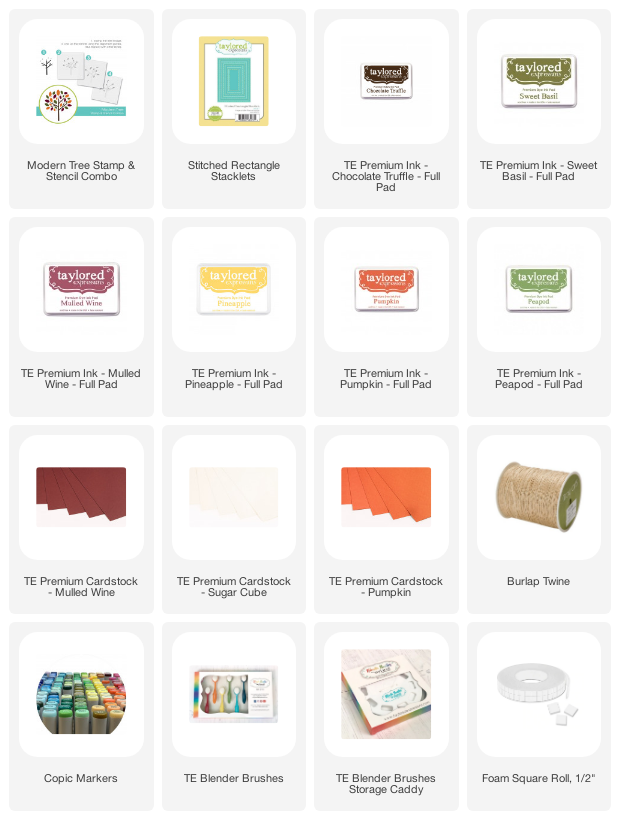 Now that I've shared my project, let's take a look at all of the new fall release products along with inspiration from the TE Creative Team!
These are the products you just saw in action in the video above! The new Modern Tree Stamp & Stencil Combo set includes a red rubber stamp set featuring both a bare tree trunk and an outline tree image that you can color in quickly and easily using the coordinating stencils or take a bit more time and color with your favorite coloring medium. The stamp set also includes six sentiments for a wide variety of occasions.
Jill Hawkins created a Mini Slim card with the Modern Tree set and I love how she has her trees coming in from opposite corners on the card! Jill used the solid trunk image along with the stencils and then added a sentiment from the new Handlettered Thanksgiving set. I love how she wrapped burlap twine around the center of her card to set the sentiment onto – burlap twine is definitely a go-to embellishment for fall-themed cards!
Jen Shults always amazes me with her coloring skills and she definitely let them shine on this trio of cards using the outline image from the Modern Tree stamp set. I love how she colored each tree for a different season: spring, summer, and fall! (P.S. There's that burlap twine again!)
Kavya created a unique design with the same outline tree image on this birthday card! She stamped the tree tops around the edges of her cardstock and colored them in with bright, festive colors. Kavya used pinks, greens, and yellows for a bright, happy color combo, but you could use a number of different combinations to customize the card for the recipient!
Next up is the new Fall Foliage Stamp & Stencil Combo set. You can easily create a whole background of colorful fall leaves with this beautiful design. Use the red rubber stamp for the leaf veins and the layered stencils to quickly add leaves in multiple shapes and colors using blender brushes. The images are easy to line up using the etched image guides on the stencils!
The new Handlettered Thanksgiving stamp set is a simple way to add a beautiful handwritten touch to your autumn and Thanksgiving themed projects. There are four sentiments in the set that you can cut out with the coordinating Handlettered Thanksgiving dies to set them off perfectly on your projects!
Gayatri Murali created a background of leaves in traditional fall colors using the Fall Foliage Stamp & Stencil Combo set. She added the die-cut 'Thanksgiving Blessings sentiment onto a layer of vellum to set it apart from the background but still allow you to see the pretty pattern behind.
I love the earthy tones that Natasha Valkovskaya used on her card featuring Fall Foliage! She stamped the 'happy fall y'all' sentiment from the Handlettered Thanksgiving stamp set onto a piece of Toffee cardstock and layered that over a piece of burlap to add a natural, rustic look.
Arjita Sepaha Singh used several shades of green over Toffee cardstock to create her leafy background. She added white highlights to several of the leaves using a white gel pen. And her choice to emboss the sentiment with white embossing powder really makes the highlighted leaves pop!
Do you want build a pumpkin? Well, now you can with our new Felt Pumpkin Pouch Kit! The kit includes materials to create two pouches: two orange felt circles with pre-punched holes, four green felt leaves, and 2 yards of burlap twine (cut it in half to use 1 yard on each pouch). These cute pumpkin pouches would be perfect for a fall table settings or a little treat for a friend or coworker. Stay tuned to the TE Blog for how-to video tutorial later this week!
And finally, we are excited to introduce the newest addition to the Tag Team collection: Tag Team – Thanksgiving. Create adorable tags to celebrate all things fall with this Cleary Crafty stamp set and the coordinating Tag Team dies. The set includes autumn and Thanksgiving themed sentiments along with several small images and three pattern blocks designed to embellish the end of the tags.
How cute is the cute pumpkin pouch that Annette Allen created? She tied the pouch off with the burlap twine (there it is again!) and added a tag stamped with a few sentiments from the Tag Team – Thanksgiving stamp set.
Melody Rupple created a whole pile of tags with the Tag Team – Thanksgiving stamp set using Peapod, Mulled Wine, Pumpkin Pie, and Toffee as her color combination. The tags look so cute tied onto the felt pumpkin pouches (with burlap twine, of course!).
Jill Hawkins created a pumpkin pouch and then added a tag stamped with the Tag Team – Thanksgiving stamp set. I love that Jill used an Apple Stacklets die cut for her tag base and added the stem and leaf to the apple using the Apple Stems & Seeds die collection. Jill punched a hole at the top of the apple shape and attached it to the pumpkin pouch with none other than burlap twine!
So there you have it! Our new fall release will be available for purchase starting tomorrow at 9am Central Time, but before I head out for today, you have a chance to win it before you can buy it! Just comment below and let me know:
What's your favorite product from our new fall collection?
I'll choose three lucky winners to receive their favorite from this release!
Simply leave your comment by TONIGHT, Monday, September 21st at 10PM Central Time. One comment per person. Winners are chosen at random and will be announced on the TE blog on release day, tomorrow, September 22nd!
Thank you for stopping by for our new autumn release sneak peeks! Stop back tomorrow for more inspiration from the TE Creative Team and a video from Heather. See you then!
---