Wednesday, October 21, 2020
Hey, crafty friends! It's Heather here today! I will be taking you through the rest of the week here on the TE Blog and bringing you lots of inspiration using the newest products that debuted yesterday in the TE webstore. Are you as excited as I am about the new Pastel Blender Brushes?? Today I have a video to share with you that uses one of the new stencils and, of course, the new Pastel Blender Brushes. We'll take a close look at a few of the new stencils along with inspiration from our fabulous TE Creative Team!
Before we get started with the inspiration for today, here's another look at the I Want It All Bundle promotion:
The I Want It All Bundle retails for $95 (that's nearly 20% off the retail price of the items individually!) and includes the following:
Pastel Blender Brushes (set of 5)
Tool Tray
All 12 new stencils including: 9 standard (6″ x 6″) stencils and 3 Mini Slim sized stencils.
Exclusive 'do something creative everyday' sticker designed to fit on the Tool Tray. This sticker design is only available with the bundle and not sold separately.
The special introductory price on the I Want It All Bundle is available now through, Sunday, October 25th, or while supplies last.
Click below to shop all of the new products that are releasing today and then keep scrolling for inspiration and more!
Tune into the blog this week! Our blog posts (Tuesday – Saturday) will feature a video showcasing the new release products.
New products are available to purchase RIGHT NOW in the TE webstore!
Receive FREE shipping on orders of $50 or more in the United States!
Earn a free, exclusive stencil set with purchases of $100 or more. CLICK HERE for more information.
For the project I am sharing today, I used the new Mini Slim Floral Lattice stencil with my new Pastel Blender Brushes. Watch the video below to see how this project came together from start to finish:
In the video, I share how I created the one layer background on my Mini Slim card using the Mini Slim Masking Rectangle and Mini Slim Floral Lattice stencils. I added a bouquet of flowers that are sure to brighten anyones day using the Bouquet Whimsy stamp set (+ coordinating dies).
Creating a background using pastel tones from the colors in the main image on your project is a great way to let that main image shine on your card. I used Lavender Glaze ink to compliment the Jelly Donut ink that I used to stamp the main colors in the bouquet. It coordinates well without overpowering the bouquet.
If your main image features bright pinks, then consider a pastel pink (like Cupcake or Pink Champagne) for your background. Try a pastel yellow (like Potato Chip) in the background of a project that features bright yellows and golds. You might find a new favorite combination!
To finish off this card, I added a sentiment that I stamped using the Simple Strips – Friendship stamp in Sugar Cube ink on Toffee cardstock (and cut out with the coordinating Simple Strips die) when I was creating a previous project. It was really great to go to my Simple Storage for Simple Strips and pull out the sentiment strip that I needed – so quick and easy!
Check out the supply list below for the products that I used for this project: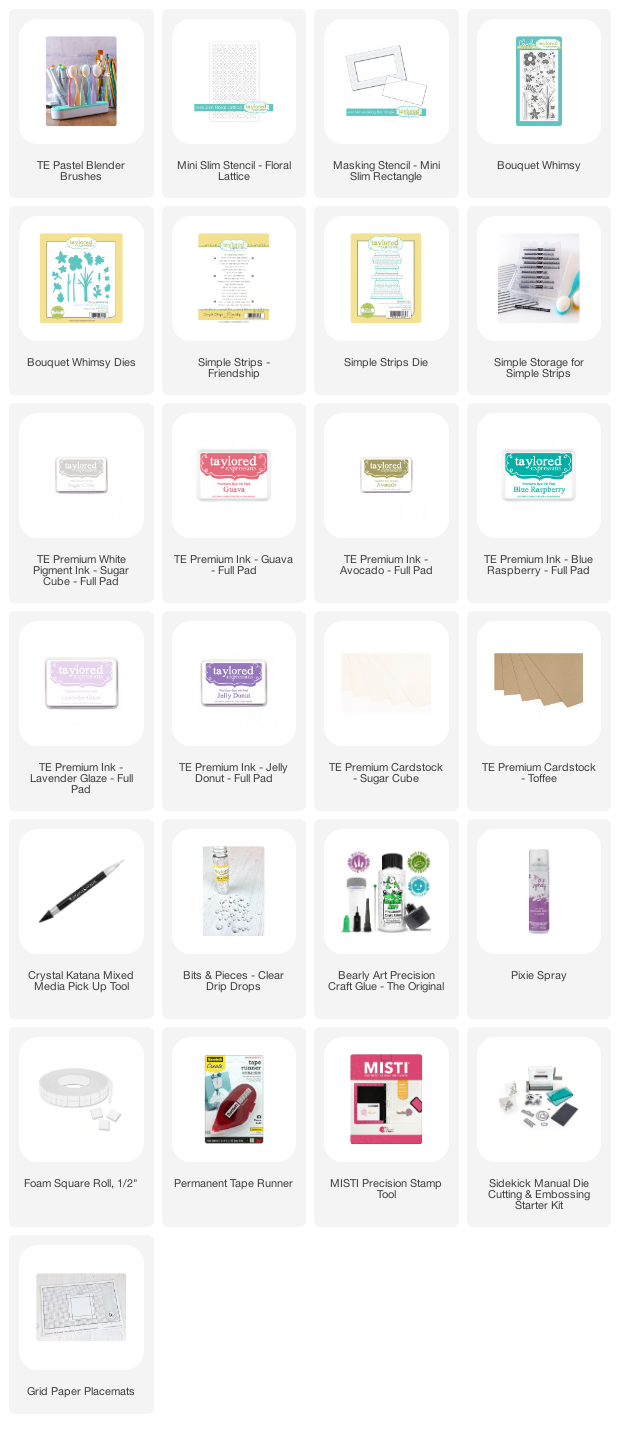 Here's a closer look at a few of the new stencils for this release along with more inspiration from the TE Creative Team.
The Mini Slim Floral Lattice stencil (3.75″ x 6.75″) features a lattice design that has a soft, feminine feel. The design pairs well with floral designs and more!
Melody Rupple created a background with Cupcake ink and the Mini Slim Floral Lattice stencil for this cute as can be mini slim Birthday card. The background coordinates perfectly with the colors that Melody used to color Millie and her slice of cake from the Millie's Birthday Bash stamp set. I love the extra detail that Melody added by die cutting layers with the Petite Scallop Mini Slim Stacklets dies and Petite Scallop Circle Stacklets dies.
The Pretty Petals stencil is the standard size (6″ x 6″) and features a swirling, organic petal design. This background pattern will pair great with floral designs and nature inspired projects.
Laurie Willison created a soft and peaceful look on her card created with the Pretty Petals stencil and Peaches 'n' Cream ink. I love how she cut up her background into 1″ strips to create a lovely texture and dimension. This card design is so versatile and you could use different sentiments on it for many different occasions.
This card is created by me (Heather Nichols) and you know I had to do something with using pastel colors on Toffee cardstock! I laid down a layer of Sugar Cube ink on Toffee cardstock using the Pretty Petals stencil, let the ink dry, and then added the pastel ink colors over the top. Adding the layer of white ink helps the pastel colors stand out. The 'thinking of you' sentiment is from the Handlettered Sentiments stamp set and I embossed it in white on Toffee cardstock.
The Hot Spots stencil is the standard size (6″ x 6″) and features a polka dot pattern with graduated dot sizes across the design. Polka dots are so versatile to use on a wide array of projects!
Natasha Valkovskaya whipped up a clean and simple card design featuring the Hot Spots stencil that is a great go-to for those times that you need to create something quickly to send in the mail or add to a gift. The background is a tone on tone look using the same color of cardstock and ink (Spearmint) and Natasha used the Wildflower Background stamped in Mushroom ink for the main image. You could switch up the background colors easily to create a whole rainbow of cards!
Gayatri Murali brought out all the pastel rainbow colors for this fun and festive birthday card! The colorful background is blended with the Hots Spots stencil and then Gayatri added in a few of our favorite critters to help with the celebration. The birthday sentiments and confetti details on the card are from the Tag Team – Birthday stamp set.
That wraps up the inspiration for today, but don't despair because I will be back tomorrow with more to share. Are you ordering the new brushes and stencils? We want to see what you create! Make sure to share your projects with us over on the Fans of Taylored Expressions Facebook Page!
Did you know that you can subscribe to our blog and get our posts right in your inbox? Just sign up right HERE – that's all there is to it to make sure you don't miss any of our crafty inspiration!
---