Wednesday, January 30, 2019
Hey, crafty friends! I was having lunch with one of my dear friends (Hi, Carol!), who I stamp together with, the other day and we were talking about how sometimes it's nice to have sentiments on your cards that aren't geared specifically to an event or person. We definitely need to make those kinds of cards, but it is important to have the cards that are for "just because". These cards are perfect for sending encouragement, inspiration, or just to let someone know that you are thinking about them.
I have a set of notecards to share with you today that I (Heather Nichols) created that fit that theme in a sense that they aren't for a specific event or targeted to a specific person, but are just meant to inspire and encourage.
All of the sentiments on this collection of cards are from the Words of Faith stamp set and I paired them with the Petite Petals Background stamp. The cards use the same layout and technique and I just swapped out colors and sentiments on each one.
The collection went together pretty quickly! I embossed the Petite Petals Background with clear embossing powder onto Sugar Cube cardstock and then used an ink blending tool to apply color over the embossed image. I used a lighter ink tone over the whole surface and then went back and added a darker ink tone on the border areas. The sentiments are stamped with Oreo ink and then I added them to a Toffee card base. I made up some coordinating envelopes by stamping a portion of the Petite Florals Background along one edge of the envelope with some Sugar Cube ink.
On the back of the cards, I added my mark using the "handstamped by" personalized stamp from the Personal Pop-Up Shop with Sugar Cube ink.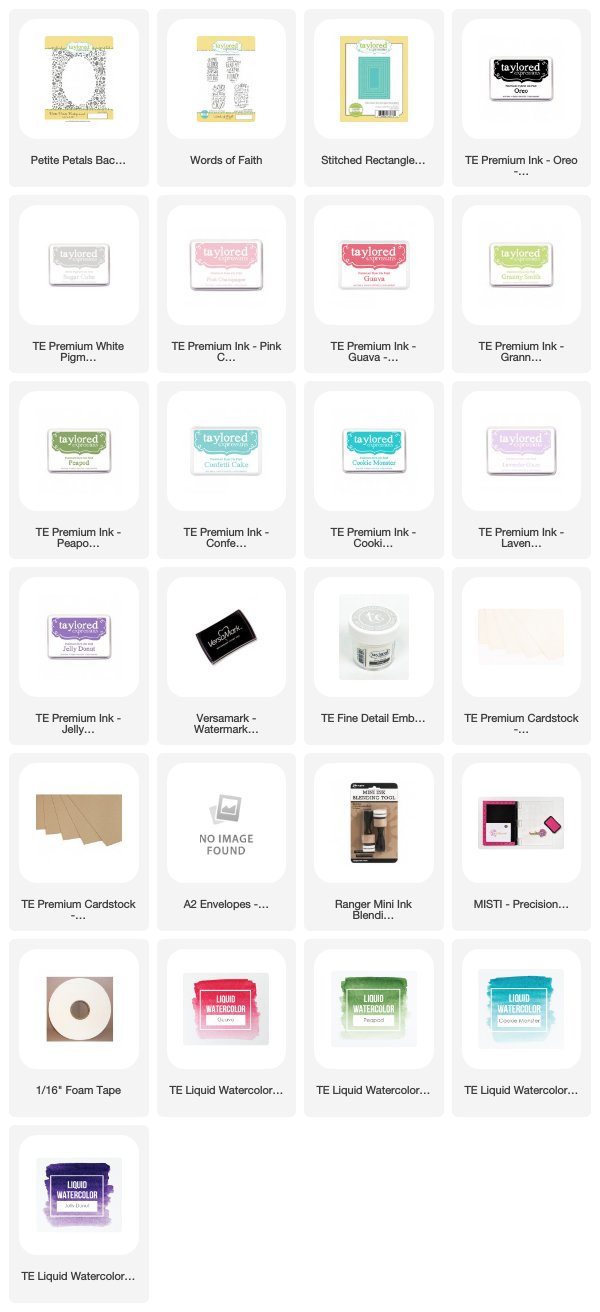 The Personalized Pop-Up Shop goes through this Sunday, February 3rd, so make sure you order your own today! There are 4 different designs to choose from and you can customize the stamp with your name, website, etc. Click below to get more details and to order your stamp today!
Thank you so much for stopping by today! I hope you have been enjoying all of the notecard making inspiration to send joy from the TE Creative Team. I have even more inspiration coming your way tomorrow, so make sure you stop by and see what TE Creative Team members Jill and Melody have created to share with you!
Did you know that you can subscribe to our blog and get our posts right in your inbox? Just sign up right HERE – that's all there is to it to make sure you don't miss any of our crafty inspiration!
---