Saturday, February 16, 2019
Hey, crafty friends! Inspiration is all around you when you take the time to look. I love when I see something that sparks an idea and even better when that idea comes to fruition with a project creation. Have you ever been inside of a church (or other building) that has stained glass windows? They are definitely something to marvel at and be inspired by.
The projects that I am sharing today are both inspired by stained glass, which is a perfect theme for an elegant Easter card. Stained glass windows are full of color, imagery, and details that speak the reason for the Easter season.
Noriko Fairchild created this gorgeous project using the Stained Glass Cross Cutting Plate die and At The Cross 2 die. This project is an easel design to hold a tear off calendar. The theme is perfect for Easter, but works well to be on display throughout the year. I love the soft and peaceful color combination paired with the metallic gold detail.
Noriko's color combination for this project includes Lavender Glaze, Cupcake, Buttercream Frosting, and gold foil. The pastel colors have a definite softness for springtime and the metallic gold throughout the design really brings a formal and elegant feel.
I have shared color combination recipe cards for all of the main featured projects I have shared with you this week and today, when you scroll to the bottom of this post, there is a PDF that includes the 4 feature project color combinations that you can download and print at home. Or, you can save the color combination graphics individually from each of the posts (just left click with your mouse and you should see an option to save the image.)
There are so many other elegant details on this project: The metallic foiling technique Noriko used with the cover plate, the flowers and foliage peeking out from behind the cross, and Noriko's use of vellum layered onto die cut elements for a soft, muted look.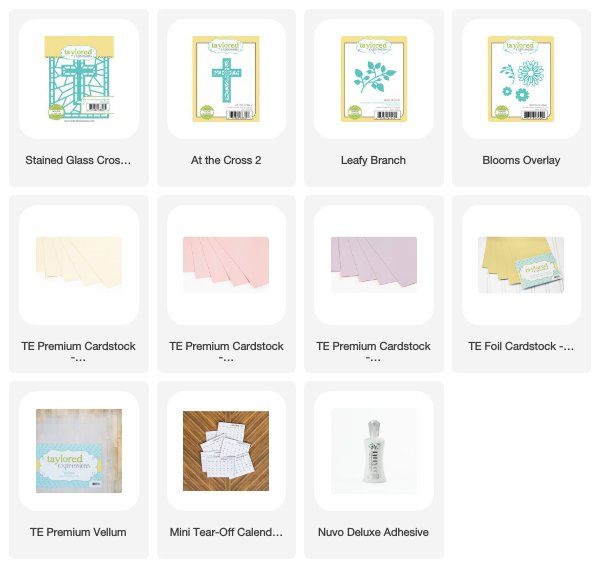 Here's another stained glass inspired, elegant Easter project created by Taylor using the Light of the World stamp set and paired with the new Rejoice Script die. Her colors include a neutral base with Sugar Cube and Toffee cardstock paired with a pop of color on the window and sentiment using Copic Markers in magenta, aqua, and green tones. Taylor colored with the Copic markers onto the backside of vellum for a frosted, stained glass effect that looks stunning behind the embossed window image.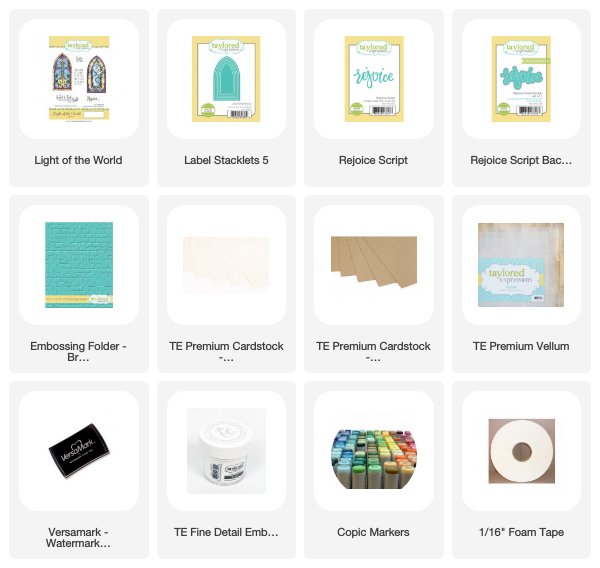 And as I promised, here is the PDF download of the 4 main featured projects from this week:
You can CLICK HERE to download the Elegant Easter Color Combination PDF. I hope you are inspired to use one of these color combinations on one of your next projects. If you do, please share it with us over on the Fans of Taylored Expressions Facebook page! We can't wait to see what you create!
Thank you for joining me today and make sure to stop by again next week for more Easter inspiration. There's lots of cute fun coming your way!
Did you know that you can subscribe to our blog and get our posts right in your inbox? Just sign up right HERE – that's all there is to it to make sure you don't miss any of our crafty inspiration!

---