May 01, 2019
Hey, crafty friends! Graduation season is here! We have a graduate in our house (I can hardly believe it!) as well as a list of other friends and relatives who are also graduating this year. My calendar is full of open houses and other events to attend in the coming weeks!
Now is the time to get graduation cards ready to go and I hope that today's project gives you some tips and tricks to do a little graduation card mass production.
This card is created with The Tassel stamp set and you might remember that I shared it during the April release at Taylored Expressions. I used a neutral color palette on this card and that makes it versatile to give to anyone, but it is also a design that you can easily change up using different colors. You can personalize the card with the recipients favorite or school colors.
I redid the design in four different colors (Earl Grey, Blue Corn, Dijon, and Mulled Wine) to share with you today. Using Sugar Cube ink for the background design made it very easy to stamp all of these cards fairly quickly on the different colors. Check out the video below to see how I put these cards together.
Using a stamp positioner, like a MISTI, is the key to stamping a bunch of cards quickly! In the video I share stamping the different elements of the card design and them how to put them all together.
I changed up how I did the sentiment on the first card design by stamping the sentiments from The Tassel stamp set on a Stitched Banner Stacklets die cut in a vertical format versus a horizontal one. Then I added a smaller banner that includes the graduation year that I created with the Banner Year stamp set and Banner Year Numbers dies. It's another personal touch beyond using custom colors for this year's graduates!
You can follow along and create cards exactly like I did, or take your favorite parts and put them together to create your own card design. You can stamp your cards in all the same color, or mix it up with different colors for each graduate. Maybe you have a graduate and need to put together some thank you cards. You can use this same card design and swap out the graduation sentiment for a thank you one.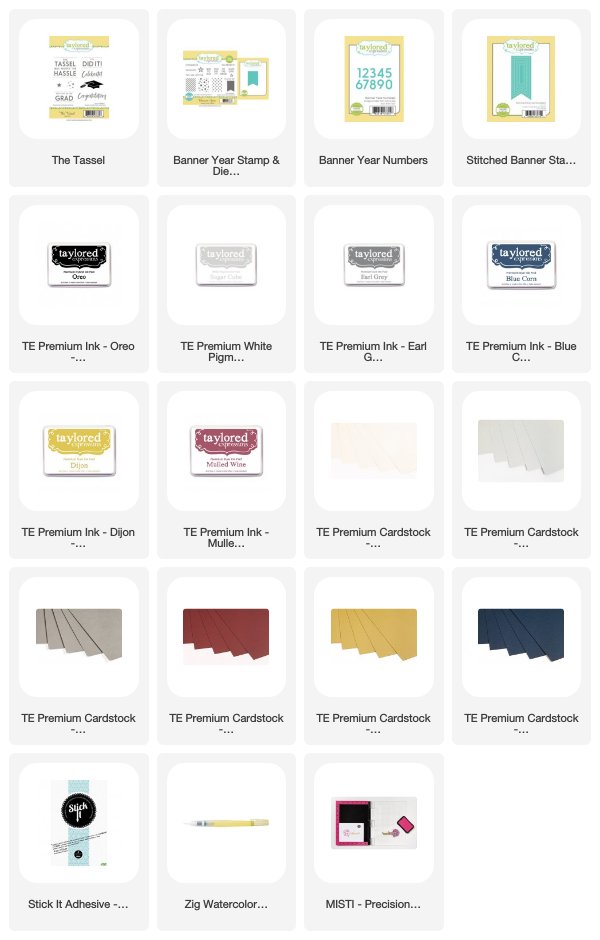 Thank you so much for joining me today. I am excited to have a bunch of graduation cards ready to go and I may even make a few more. I have more graduation card making inspiration to share with you tomorrow from Melody Rupple, so make sure you make plans to stop back again and check it out!
Did you know that you can subscribe to our blog and get our posts right in your inbox? Just sign up right HERE – that's all there is to it to make sure you don't miss any of our crafty inspiration!