Jan 21, 2020
Hey, crafty friends! Are you like me and maybe are not the best at being organized or keeping your crafting desk clean? I can use all the help I can get and I bet some of you are right there with me! The best way to complete a big project like getting your craft area organized is to do things one step at a time, right? Today, I have a helpful step to move you in the right direction to craft room organization and we are going to make that step with organizing stencils!
I have a new product bundle and promotion to share with you today that will help you get started and then keep scrolling to watch the video to see how easy it is to get your stencils organized in style!
Introducing the TE Stencil Storage Bundle. This bundle includes everything you need to organize and store your stencil collection. Here's what is included:
The Frame Your Imagination Stand – this stand is handcrafted, sanded, and ready to accept a coat of paint or stain. The stand comes with two metal binder rings.
20 – 6″x6″ page protectors – this will store up to 40 stencils!
20 – 6″x6″ sheets of a neutral gray cardstock.
A printed label sheet of the complete Taylored Expressions stencil collection.
The Frame Your Imagination Stand and 6″x6″ page protectors are also available to purchase separately, but the gray cardstock and labels are exclusive to the TE Stencil Storage Bundle.
The TE Storage Bundle is available to purchase for $30 is currently SOLD OUT. Click below to do a pre-order for the the the bundle for $30 through Sunday, February 26th with an estimated ship date of February 10th.
Is it just me, or when you organize craft supplies, do you get the urge to do a little shopping? Just in case you need a few more stencils to add to your collection, we have just the sale for you!
When you purchase 3 or more stencils, you will get 15% off your stencil purchase now through Sunday, January 26th. Click below to shop!
Are you ready to see how easy it is to get your stencils organized? Watch the video below:
I can't tell you how wonderful it feels to have this organization project checked off my list. My stencils are all organized, easy to find, easy to put away when I am done creating, and my desk is a little cleaner… and cuter!
It's so easy to flip through the pages and see the stencils I have in my collection. That neutral gray cardstock behind the stencils shows off the patterns perfectly!
The stencils are easy to slide in and out of the page protectors and since each stencil now has a home, clean up after projects will be faster and easier than ever!
Don't you agree that this stencil storage just ups the cuteness of my desk decor? What are you waiting for? It's time to get your stencils organized!
Check out the supply list below for the supplies I used to create my stencil storage: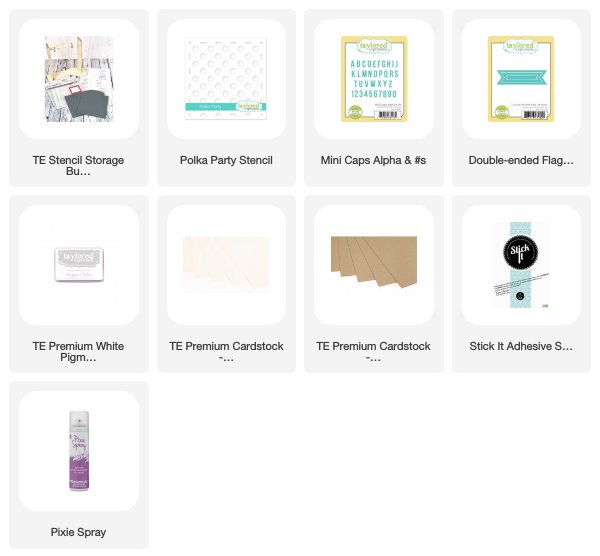 Are you inspired to start organizing your stencil collection? We would love for you to share your stencil organization results over on the Fans of Taylored Expressions Facebook Page. I don't know about you, but seeing how other people get organized inspires me to get organized too.
Thank you so much for stopping by today! Check back for more stencil inspiration coming your way a little later this week on the TE blog.
Did you know that you can subscribe to our blog and get our posts right in your inbox? Just sign up right HERE – that's all there is to it to make sure you don't miss any of our crafty inspiration!