Mar 24, 2020
Hey, crafty friends! How is everybody holding up? I feel so lucky that we all have this crafty hobby to lean into during these challenging times. It's definitely a nice escape to play with all things stamps, paper, and ink! I have even had a few virtual crafty sessions with friends across the country and that has been so much fun. We plan on continuing to connect this way and I hope that we continue even after all of this craziness passes. There's nothing better than spending time with crafty friends, don't you think?
All of us here at Taylored Expressions are thinking of all of you and are working hard behind the scenes to keep bringing you crafty inspiration on our blog, on our social media, and in our store. We hope you all enjoy what we have to share. We even have a way that you can connect with Taylor today at the end of this post!
This week we have some fresh floral inspiration to share using stamps from our Big Blooms collection. Spring is on its way and I can't wait for the green grass and colorful flowers that will be making an appearance! Today, my project features the Big Blooms – Daffodils stamp and later on this week Taylor will have a project to share that features another Big Blooms set.
You can save 20% off any of our Big Blooms stamps now through Sunday, March 29th in the Taylored Expressions webstore. In addition, the first 50 customers who spend $100 or more will receive the Stacked Seasons – Spring Background stamp FREE! Click below to shop the Big Blooms collection now!
Watch the video below to see how I created my project with the Big Blooms – Daffodils stamp:
In the video, I show you how I added watercolor to the Big Blooms – Daffodils image that is embossed onto watercolor cardstock with white embossing powder. I used liquid watercolors in the following colors: Pineapple, Candy Corn, Peapod, and Toffee.
I really like doing watercolor with embossed images. The embossed lines are raised up from the paper a bit and create enclosed areas on the image to contain the watercolor. The embossed lines also resist the watercolor and that makes me feel like I have a bit more control over where my color is going on my project!
The technique I use for adding watercolor to the flower image is wet on wet. I add water with my brush to the different areas I want to add color to and then add the color a little at a time. The color will flow where the paper is wet. I first added Pineapple liquid watercolor to the flowers and then added shading using Candy Corn liquid watercolor. A little paint goes a long way, take your time, and keep adding color to build up the saturation where you want it.
Once the flowers were painted, I added Peapod liquid watercolor for the leaves, and Toffee for the background using the same wet on wet technique.
The sentiment on my card is created with the Rejoice Script die. I die cut the word three times and stacked them together to create a bit thicker sentiment to pop up a bit on my project. My final touch was a few Bits & Pieces – White Rhinestones embellishments for some sparkle and shine. This card is perfect to send for Easter or for any other reason to celebrate!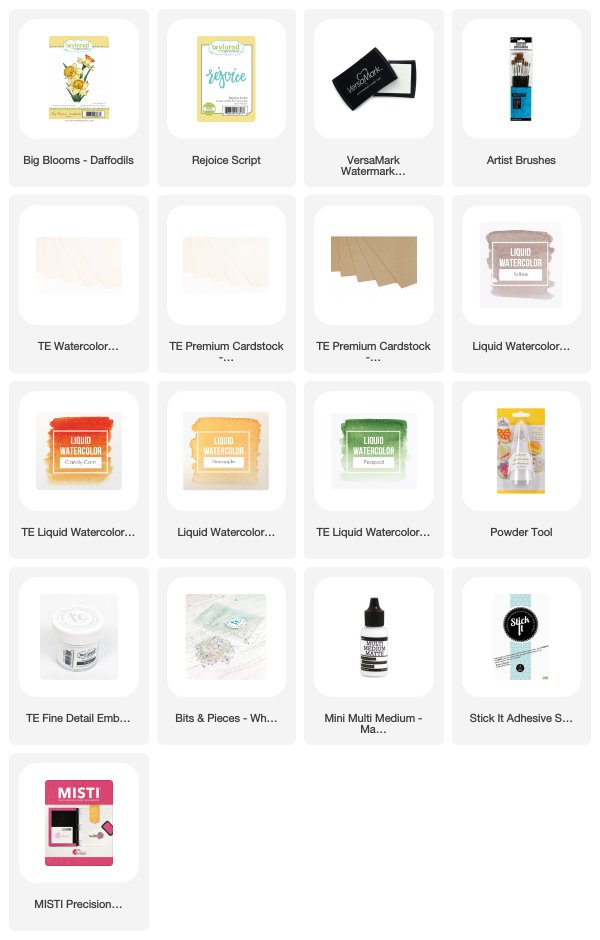 Don't forget about the March FREE SHIPPING promotion in the Taylored Expressions webstore:
There is FREE SHIPPING on orders in the United States when you spend $50 or more in the Taylored Expression webstore during the month of March to celebrate National Craft Month!
And now, one more FUN announcement about how you can connect with Taylor today:
We would love to connect with you online for "T Time" with Taylor on Facebook Live! Go to our Fans of Taylored Expressions Facebook page to join us today at 1PM CDT. See you there!
I hope you enjoyed the bit of springtime inspiration that I had to share today. Maybe you were inspired to use liquid watercolors on your next project! I will have more inspiration coming your way from Taylor with another Big Blooms set a little later this week. Stop back again to check it out!
Did you know that you can subscribe to our blog and get our posts right in your inbox? Just sign up right HERE – that's all there is to it to make sure you don't miss any of our crafty inspiration!