Aug 08, 2020
Hey, crafty friends! It's Heather here today! I am popping in on a Saturday (happy weekend!) to bring you Simple Strips inspiration. After seeing all of the awesome new Simple Storage products, especially the new Simple Storage for Simple Strips, I was inspired to pull out my Simple Strips stamps and create. I challenged myself to think out of the box for a fun new idea to do with the strips and I hope you enjoy the results!
Before I get to my project, I want to remind you about the Simple Strips stamp set promotion going on right now in the TE webstore:
Right now through Sunday, August 9th, all of the Simple Strips stamp sets are 15% off in the TE webstore. If there are stamps that you need to complete your Simple Strips collection, now is the time to pick them up! Here is the complete list of Simple Strips stamps that are available:
*Please note that Simple Strips dies are not included in the promotion.
Watch the video below to see how I created a birthday card using the Simple Strips – Birthday stamp and Simple Strips die paired with the Celebrate Big Balloon Shaker die:
In the video, I show you how I created a patterned block using the Simple Strips – Birthday sentiments and then die cut the blocks into balloon shapes for a birthday card. This patterned block idea can be used with any of the stamps in the Simple Strips collection and there are so many different options of dies that you can use to cut out custom shapes for your projects.
For my project, I stamped, embossed, and die cut new sentiments for my balloons on Blueberry, Blue Raspberry, and Granny Smith cardstock. You could also use sentiment strips that you already have stamped and ready to go. I saved a few of the sentiments to the side that I added to the bottom of my project for the main sentiments on this card.
To help define the balloons a bit more on my card, I added a second layer of the balloon die cut from a coordinating piece of cardstock. Just offsetting it a little bit from the main shape was enough to make it stand out like I wanted. The strings on the balloons are from the Balloon Strings die collecition and the background on my card was created with the Polka Party stencil and Sugar Cube ink on Toffee cardstock.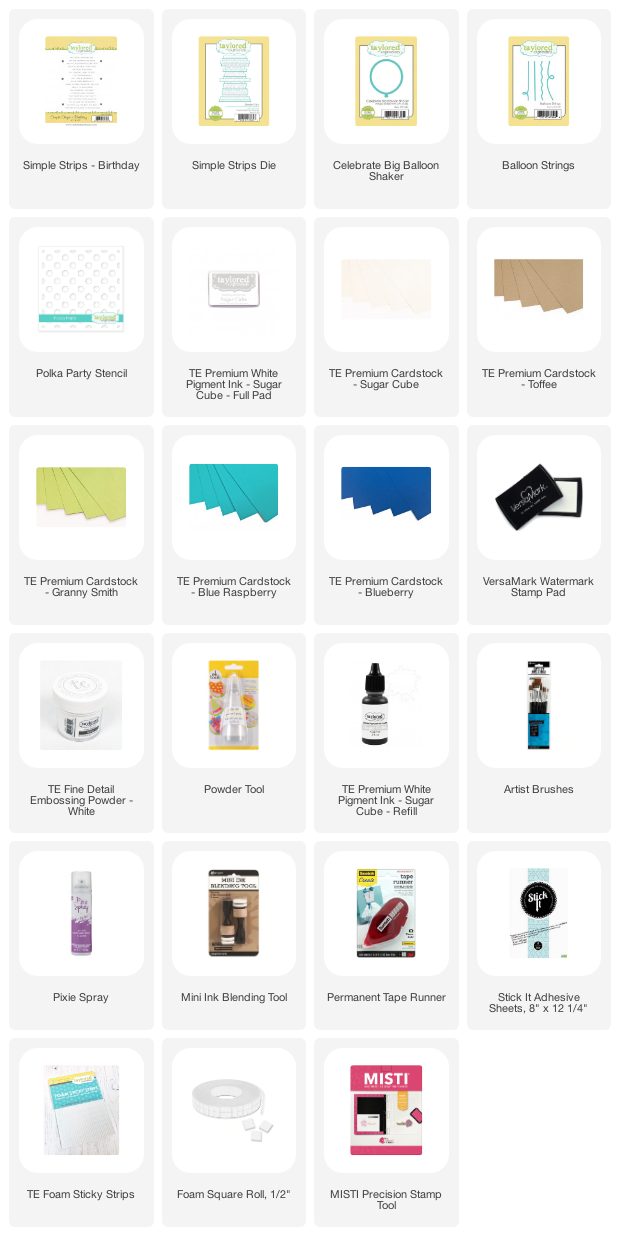 Thank you so much for stopping by the TE Blog today and I hope you were inspired to create with Simple Strips on your next project. What would your ideas be for a die cut patterned block using one of the Simple Strips stamps? Make sure to stop by this next week for a brand new kit release that I will give you a peek of here tomorrow!
Did you know that you can subscribe to our blog and get our posts right in your inbox? Just sign up right HERE – that's all there is to it to make sure you don't miss any of our crafty inspiration!