Tuesday, November 10, 2020
Hey, crafty friends! It's Taylor here today! One of my very favorite 'end-of-the-year' traditions is creating a handmade calendar to enjoy in the upcoming year. I also love giving handmade calendars as gifts! It's the gift that keeps on giving as the recipient discovers a new creation with the change of each month. Through the years we've released many different products designed for handcrafting calendars including our popular mini tear-off calendars, 3×4 calendar, 5×7 calendar, desk calendar, and all the parts and pieces designed to decorate them. This year, I'm super excited to bring you something new and unique in our Handcrafted Calendar kit!
The exclusive Handcrafted Calendar Kit includes everything you need to make a customized 5″ x 8″ calendar designed to hang from a magnetic walnut wood hanger. The kit comes packaged in a plastic clamshell box to keep all your pieces together and includes:
Walnut Wood Hanger Frame (plus 12″ length of leather cord)
5×8 2021 Dated Grid Calendar (12 individual 5″ x 8″ sheets printed on 100 lb. Sugar Cube cardstock)
Stencil Strips – Calendar (set of 12, numbered to correspond with the months of the year)
Group Text – Months stamp
Group Text Die
Clearly Crafty It's a Date stamp set
If you decide to create calendar gifts, there are a few items that you can purchase additional quantities separately: 5×8 2021 Dated Grid Calendar, the Walnut Wood Hanger Frame, 5×8 Clear Calendar Boxes, and the Stamp & Style Pouch.
Click below to shop now for the new Handcrafted Calendar Kit and then keep scrolling for more information and inspiration!
In the video below I'll walk through how all the pieces of the kit were created to work together perfectly! Create a simple calendar with limited supplies or step it up and decorate each of the months with additional images or die cuts. My goal was to keep my project simple as I plan to mass-produce these for my mom and sisters as a Christmas gift. The whole set took less than an hour from start to finish and I love how it turned out!
Notice, there's about an inch of white space at the top of each calendar page. That is the area that will be covered by the magnetic hanger so make sure you shift your stencil strip down in order to enjoy the full pattern and not cover it up! Below are the ink colors used on each of the first three months:
January: Confetti Cake, Cookie Monster
February: Pink Champagne, Cherry Pop, Mulled Wine
March: Pink Champagne, Peaches N Cream
When you receive your calendar, you'll notice there is no month printed on the front of each calendar page with the idea that you'll label the appropriate months with the included Group Text stamp and coordinating die. However, so you don't get confused while you're blending, we printed the month and year on the back of each calendar page!
April: Salt Water Taffy, Sprinkles, Blueberry
May: Guava, Pineapple
June: Lollipop, Pineapple, Cookie Monster, Jelly Donut
The included Group Text Months & Group Text coordinating die allows you to quickly label each month of your calendar. I chose to emboss white on Oreo cardstock for all of the months, however, you could stamp on different colored cardstock to coordinate the monthly label with the blended pattern.
July: Cherry Pop, Sprinkles, Blueberry
August: Granny Smith, Cilantro, Sweet Basil
September: Pineapple, Dijon, Sweet Potato Pie
Once the calendar tops were finished, I used the It's a Date clear stamp set to add the tiny icons within the dated grid box for the appropriate holiday. Check out the Stamp & Style pouch if you plan to give these as a gift and want to allow your recipient to mark their own holidays and occasions!
October: Earl Grey, Poppy Seed, Oreo
November: Dijon, Pumpkin, Mulled Wine
December: Strawberry Milkshake, Lime Zest, Cherry Pop
I have shared all of the ink colors I used for each month above and the rest of the supplies I used for my calendar are listed below: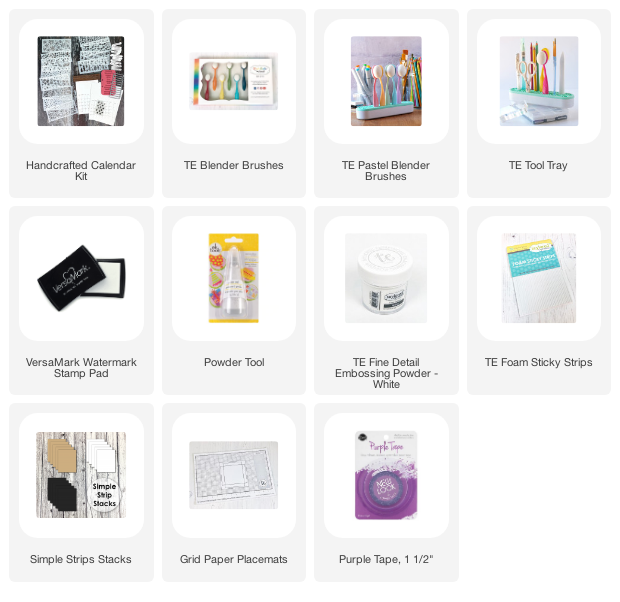 Now, let's take a closer look at the Handcrafted Calendar Kit, a few products that are available separately, and inspiration from the TE Creative Team. I love all of the different versions that everyone created! You can keep things clean and simple or step it up for your calendar creation!
Part of our exclusive Handcrafted Calendar Kit, our 5×8 2021 Dated Grid Calendar provides you with a perfect base for creating custom calendars for the new year! The pages are designed with plenty of room at the top to stencil, stamp, and decorate, making these calendars easy to customize for yourself or give as gifts. The set includes 12 individual 5″ x 8″ sheets printed on 100 lb. Sugar Cube cardstock (the month is conveniently printed on the back of each page for reference before adding the labels on the front). Hang the calendar pages with the Walnut Wood Hanger Frame or trim an inch off the top to fit into a 5″ x 7″ frame. This item is also available to purchase separately from the kit.
Laurie Willison kept things clean and simple for her calendar design. She added stenciled designs to each of the 5×8 2021 Dated Grid Calendar pages along with month labels to match the ink color of the stenciled pattern.
Our Walnut Wood Hanger Frame is handmade and sized to work perfectly with our 5×8 2021 Dated Grid Calendar (sold separately). The frame consists of two pieces of wood that are magnetized to clamp together and hold the calendar in place. The back piece is pre-drilled with holes so you can thread the included length of leather cord through and hang your calendar wherever you desire. This item is also available to purchase separately from the kit.
Noriko Fairchild created a colorful and sparkly set of pages for her 2021 calendar. I love how she used the Handlettered Alphabet for the months and then masked them to add the stenciled patterns. Noriko added sparkle with glitter gel and various Bits & Pieces embellishments on each page and will add them into the Walnut Wood Hanger Frame to display them in her home.
The Stencil Strips – Calendar is a set of 12 stencils that feature patterns for each month of the year. The stencils are numbered for the corresponding calendar months or you can mix and match the designs if you'd like! When you're finished using these for your calendar project, you'll love adding the stenciled designs to your card projects too!
This cute calendar by Arjita Sepaha Singh features the stencil patterns for January through June. Arjita added the stenciled designs to each of the months and then added a layer of clear glaze over the top for a beautiful shine! Each month features cute critters from the Life of the Party and Millie's Birthday Bash stamp sets.
Melody Rupple added the stencils designs to the pages here for July through December for her calendar. The stencil designs work well on their own for each month or you can step things up as much as you would like! For these calendar pages, Melody simply added each month embossed in white on Oreo cardstock.
The new Group Text – Months stamp includes all twelve-month names that you can stamp in one impression. Cut out all 12 names at one time using the coordinating Group Text die and our innovative alignment guides.
The new Clearly Crafty It's a Date stamp set includes 15 icons for marking your calendar pages with important dates like birthdays, holidays, and more. If you plan to give a calendar as a gift, consider grabbing our Stamp & Style Pouch so the recipient can customize their new calendar with their own special dates. Scroll down to learn more about this option!
Get colorful when adding your special events to your calendars like Jill Hawkins did on her Big Grumpy calendar (make sure to stop by her blog to check out all her calendar pages!). You can add either one or multiple icons from the It's a Date stamp set for the different occasions on your calendar. Jill embossed the months in white on Oreo cardstock using the Group Text – Months stamp and then cut them out with the coordinating Group Text die to add them to each page.
Gayatri Murali used Oreo ink to add the icons from the It's a Date stamp set to her calendar pages and that's a great way to make things quick and easy! Gayatri's calendar features the cute critters from the Calendar Critters stamp set and I love how she masked and stenciled a coordinating patterned strip along the bottom of her calendar!
That wraps up the items that are a part of the kit! The items below are available to purchase separately from the Handcrafted Calendar Kit and are perfect for packaging the calendars that you will give as gifts or for storing your own monthly calendar pages while they're not in use:
Each 5×8 Clear Calendar Box holds 12 individual 5″ x 8″ calendar pages, depending on embellishment. Boxes come in a set of 5, ship flat, and fold together easily on pre-scored lines, with no need for adhesive.
If you're giving handmade calendars to friends and family this year and want to be sure they can personalize it to reflect their own special dates and celebrations, then be sure to gift your calendar along with our Stamp & Style Pouch. This little bundle includes one TE Premium Oreo Mini Ink Cube, one 1″ round acrylic block and the It's a Date clear stamp set included – all tucked in an adorable polkadot pouch! 
Join me live for "T Time" at 1pm Central today on the Taylored Expressions Facebook Page. I'll be sharing a closer look at the new Handcrafted Calendar Kit along with some ways you could easily dress up each of the months without a lot of extra effort! I hope to see you there – come join in on the fun!
Thank you so much for joining me today and sharing my excitement over our newest kit! You can visit the TE Creative Team members blogs to see their calendar creations by clicking on their faces below. Tune into the TE Blog tomorrow and Thursday for more kit inspiration including videos and projects from the TE team!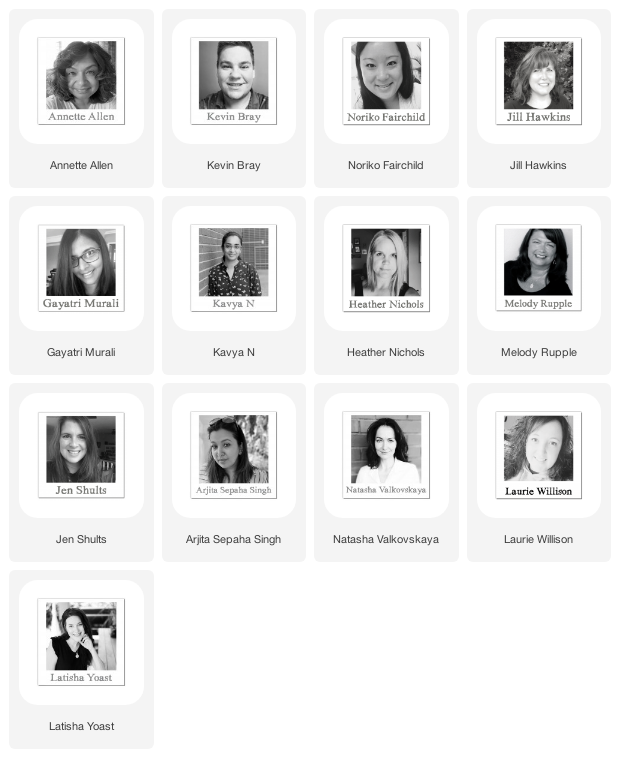 ---