Mar 02, 2021
Hey, crafty friends! It' Taylor here today! We are excited to announce the release of our 2022 calendars in the Taylored Expressions webstore! At TE, we are known for our calendars and are excited to be able to release these for you so you can get started on crafting on your calendar projects for 2022. We are also releasing the individual products from the Handcrafted Calendar Kit that was offered last November and we have a new calendar display option that I think you're going to love!
Here's just a peek at the new calendar creating options that are now available! Click below to shop all of the new 2022 Calendar options in the TE webstore:
Watch my video below to see some of our newest calendar products in action: Mini Tear-off Calendars for 2022, the Clipboard Calendar – Sweet pack, the Walnut Wood Clipboard Stand, and the Calendar Storage Sleeves:
This calendar idea is made easy by allowing you to simply switch the header panel out each month (or as often as you choose)!
I started by foiling each of the toner printed panels with gold foil. I colored a few of the panels with Copic markers and left others simple with just gold foil detailing.
Add a Mini Tear-Off Calendar at the bottom and store the extra cards on the back of the calendar stand for easy transfer to the front when desired.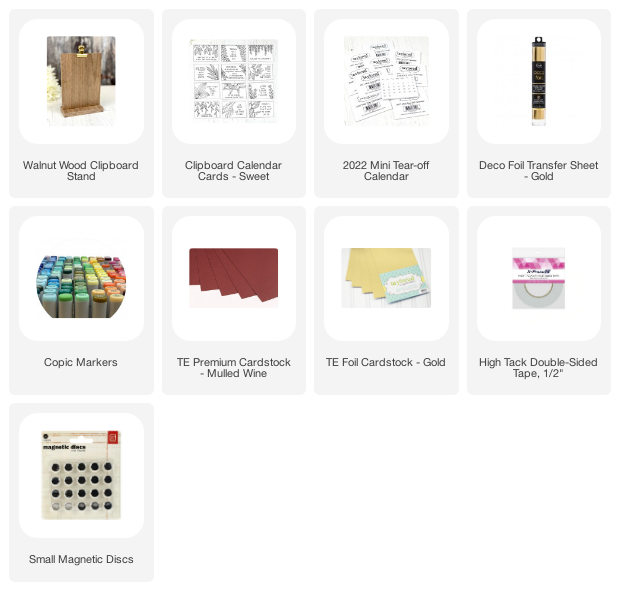 Here's a rundown of our calendar options that are now available, starting off with the products you just saw in my video above:
The Mini Tear-Off Calendars are one of the most popular products that we sell in the Taylored Expressions webstore! The calendars are printed on a 20 lb. paper and backed with chipboard for sturdiness. These little calendars measure 2 1/4″ x 3″ and come in a pack of 10. They are perfect for adding to all sorts of surfaces including an easel that you can create with the Display Easel die collection.
CLICK HERE to see another video featuring the Mini Tear-off Calendars.
Display your days in style using the new Clipboard Calendar packs! Available in the Sweet and Snarky options you see in the photo above, you get 12 pre-printed 3.5″ x 2 3/8″ cards printed on heavyweight white cardstock. You can foil the toner based images and color them with Copic markers, colored pencils, and more. Pair the cards with our Mini Tear-off Calendar on the Walnut Wood Clipboard Stand. (Heather will be featuring a calendar this Thursday featuring the Clipboard Calendar – Snarky pack!)
The Walnut Wood Clipboard Stand is the perfect way to display a calendar, favorite photo, handmade card, and more! The walnut wood (sourced in the Midwest) stand is 4.5″ wide, stands 6.5″ tall, has a 2″ x 4.5″ base, and includes a gold colored clip to hold what you want to display.
Use the Calendar Storage Sleeves to package up the cards from the Clipboard Calendar packs to store on the back side of the Walnut Wood Stand. Calendar Storage Sleeves come in a package of 10.
Here's a look at the products that were previously a part of the Handcrafted Calendar Kit (CLICK HERE to see the original post Handcrafted Calendar Kit post) that you can now purchase individually:
The new Group Text – Months stamp includes all twelve-month names that you can stamp in one impression. Cut out all 12 names at one time using the coordinating Group Text die and the innovative alignment guides.
The Stencil Strips – Calendar is a set of 12 stencils that feature patterns for each month of the year. The stencils are numbered for the corresponding calendar months or you can mix and match the designs if you'd like! When you're finished using these for your calendar project, you'll love adding the stenciled designs to your card projects too!
The new Clearly Crafty It's a Date stamp set includes 15 icons for marking your calendar pages with important dates like birthdays, holidays, and more.
Our 5×8 2022 Dated Grid Calendar provides you with a perfect base for creating custom calendars for the new year! The pages are designed with plenty of room at the top to stencil, stamp, and decorate, making these calendars easy to customize for yourself or give as gifts. The set includes 12 individual 5″ x 8″ sheets printed on 100 lb. Sugar Cube cardstock (the month is conveniently printed on the back of each page for reference before adding the labels on the front). Hang the calendar pages with the Walnut Wood Hanger Frame or trim an inch off the top to fit into a 5″ x 7″ frame.
There are a few videos featuring the products from the Handcrafted Calendar Kit: CLICK HERE to see a video from Taylor, CLICK HERE to see a video from Mindy Eggen, and CLICK HERE to see a video from Joy Baldwin.
And finally for today are our well loved calendar options now formatted for 2022:
The 3×4 Calendar includes 12 pages (one for each month) printed on cardstock and ready to decorate. You can customize this calendar with several coordinating products that are sold separately: Calendar Critters, Calendar Grumplings, Flowers for a Year, the Little Bits die collection series, Build a Scene – Calendar die collection, and Build a Scene – Calendar 2 die collection.
CLICK HERE to see a video featuring the 3×4 Calendar.
Next up is the 5×7 Calendar. This size is the perfect template to display your creativity and enjoy it throughout the year! Stamp, stencil, paint, glitter, etc. in the white space at the top of each calendar page.
This last set is a personal favorite: the Mini Desk Calendar. The Mini Desk Calendar is designed to sit perfectly into the Walnut Wood Calendar Stand and coordinates with the In Season die collection.
CLICK HERE to see a video featuring the Mini Desk Calendar.
Join me live for "T Time" at 1pm Central today on the Taylored Expressions Facebook Page. I'll be sharing a closer look at the new calendar products. We hope to see you there – come join in the fun!
Thank you so much for stopping by the TE Blog today! Do you create crafty calendars each year? What format is your favorite? Stop back again later this week for more inspiration for your 2022 calendar crafting!
Did you know that you can subscribe to our blog and get our posts right in your inbox? Just sign up right HERE – that's all there is to it to make sure you don't miss any of our crafty inspiration!
Posted by Taylor at 9:00 am
|
|
|