Sep 16, 2021
Hey, crafty friends! It's Heather again today to share more inspiration with you for our 13th Birthday release! We sure hope you have had fun celebrating with us this week. We still have a birthday festivities continuing through the month, check out THIS POST to see our event calendar!
You can participate in the Birthday Challenges through tomorrow, Friday, September 17th and then we will announce the contest winners on Monday, September 20th. Did you miss the information about the challenges? Click each of the challenge names to take you to the blog post sharing information about it:
Today, I have a video to share with you from Joy Baldwin plus one more round up of inspiration from the TE Creative Team.
Here's one last reminder about the 13th Birthday Bundle that you can pick up for 15% off through this weekend:
Right now through Sunday, September 19th, you can get our 13th Birthday Bundle for 15% off! The bundle includes the Piece of Cake Layered Stencil set, Piece of Cake Additions clear stamp set, and Piece of Cake die collection. The discounted bundle price is only available through 11:59PM Central Time on Sunday, September 19th or while supplies last.
If you haven't checked out the new products for our 13th Birthday release, click below. Then, keep scrolling for today's video and inspiration!
Tune in for new product inspiration: this release includes 19 new products; new stamps, dies, stencils, and colorful embellishments!
Our TE blog posts this week Monday, Tuesday, and today will feature a new how-to tip, technique, or process video.
Receive FREE shipping on orders of $50 or more in the United States!
Earn a free, exclusive stamp with purchases of $100 or more. CLICK HERE for more information.
Today's video comes to you from Joy Baldwin. She is sharing this sweet birthday card featuring a cupcake stacked up with rainbow frosting layers, pink sprinkles, and a sentiment to celebrate the day. Watch below to see how Joy whipped up this cute concoction:
In the video, Joy features the large cupcake from the Sweet Shoppe Stencil & Clear Combo set (+ coordinating dies) for her card. She uses the stencils to create the colorful layers of frosting with Bitty Blender Brushes, adds a few embossed details with the clear stamps in the set, and assembles the rainbow layers together to create the sweetest birthday treat. The background of her card is created with the Sprinkles Rotating Stencil and Joy adds a sentiment put together with the Get the Word Out – Celebrate stamp, Get the Word Out – Celebrate Shadow die, and Mini Strips – Birthday stamp.
Here's a closer look at a few of the new products that Joy used on her birthday card:
Create cards featuring sweet treats to celebrate birthdays and more with our Sweet Shoppe Stencil & Clear Combo set! The set includes eight layering stencils – four that work together to create a larger single cupcake and four that make a smaller row of cupcakes – plus 10 clear stamps to accent the cupcakes and make them come to life. Use the coordinating Sweet Shoppe dies to cut out the larger cupcakes and the whole row of tiny cupcakes.
Let everyone know it's time to celebrate with the Get the Word Out – Celebrate stamp. Layer it over the Get the Word Out – Celebrate Shadow die to add dimension with a variety of materials that are easy to cut using this Mixed-Media die.
I love all of the colorful layers on this cupcake! Joy shows great tips and tricks for stenciling and assembling the layers in the video. She adds great details like the red hearts to top the cupcake, embossed details, and highlights with a white gel pen. The pink sprinkles are the perfect background behind the cupcake and using two different pink inks creates a background that's not too busy, but still adds interest with the different shades of color. Who wouldn't love receiving this sweet treat to celebrate a birthday? I sure would!
Check out the list below for all of the supplies that Joy used on her card: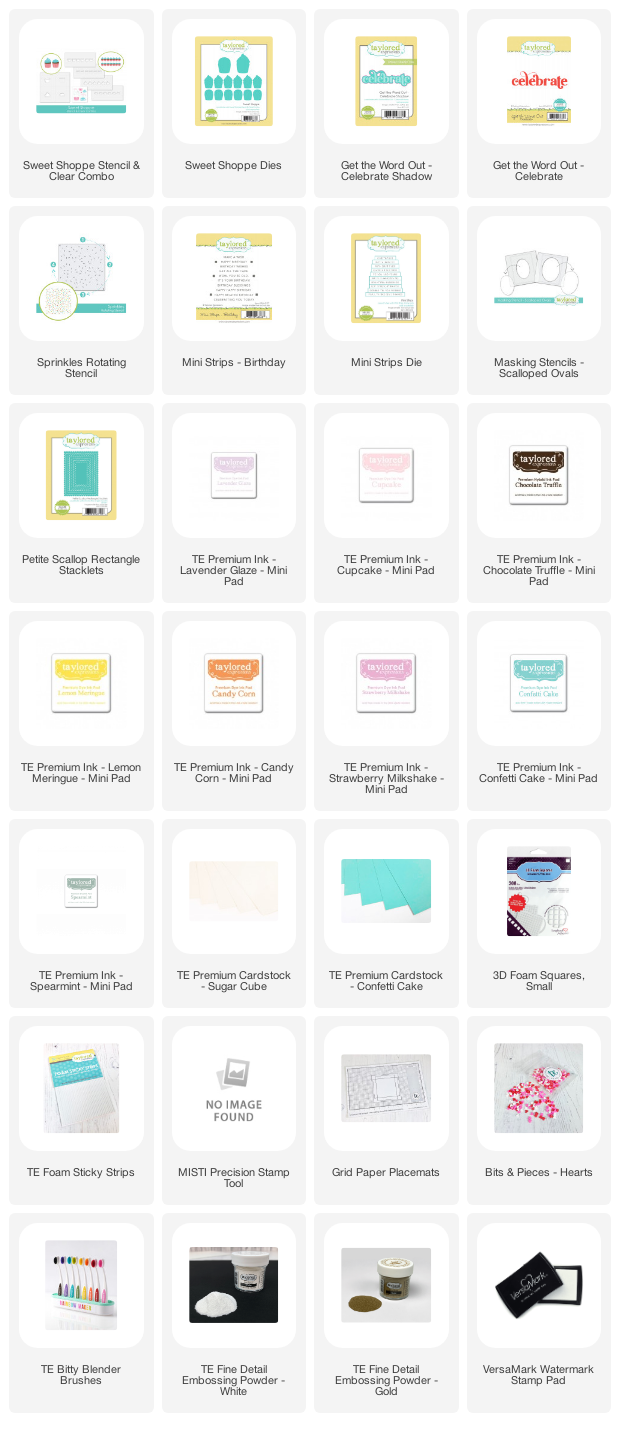 Jill Hawkins lined up a whole row of sweet cupcakes on this Mini Slim birthday card! She used the larger cupcake from the Sweet Shoppe Stencil & Clear Combo set and stenciled several of them up with pretty pastel frosting colors, complete with sprinkles stamped with the clear stamps! After cutting them out with the coordinating dies, Jill added the cupcakes to a background stenciled with the Mini Slim On the Dot stencil and stamped with confetti from the Piece of Cake Additions stamp set. A few sparkly rhinestones and the 'celebrating you today' sentiment from the Mini Strips – Birthday stamp embossed in white on Oreo cardstock and this card is ready to deliver birthday smiles!
Kavya used a few of the smaller cupcakes from the Sweet Shoppe Stencil & Clear Combo set on this bright and fun birthday card! The cupcakes are sitting on either side of Millie sitting on a cupcake, from the Millie's Birthday Bash stamp set, that is filling in for the 'A' in the 'Celebrate' sentiment from the Fill in the Blank – Birthday Cling & Clear Combo set! This card might look familiar to you as it was the sensational card that Kavya created for the Simple to Sensational Birthday Challenge. I have to agree with the sensational part and always am amazed at all of the incredible detail that Kavya incorporates into her projects!
Create fun little wraps for lollipops, chocolate squares and other goodies with our Present Treat Wrap dies. The set of 2 dies work together to create a folding wrap in the shape of a present, complete with a bow! Personalize them even more with our Itty Bitty Sentiments stamp set and Itty Bitty Tags 1 and Itty Bitty Tags 2 die collections (sold separately).
Kavya used a few more cupcakes that she created with the Sweet Shoppe Stencil & Clear Combo set to decorate sweet birthday treats. The larger cupcake is attached to a Circle Window Frame die and the smaller one is attached to a tag on the Present Treat Wrap. Kavya did a rainbow blend using her Blender Brushes on a piece of Sugar Cube Cardstock using Jelly Donut, Lollipop, Candy Corn, Confetti Cake, Granny Smith and Pineapple inks and cut out the main wrap and bow from it. Kavya wanted her wrap to hold a bit extra, so she added extra cardstock to the sides – check out her blog to see how she did it!
We can't wait to introduce you to Chip and Charlie! This cute raccoon and bird duo are having a birthday party and you are invited to come along with the new Chip & Charlie Party Stamp & Die Combo set. You'll love coloring the cute scene with your favorite coloring medium to send birthday wishes to your loved ones!
Emily Mydlowski colored up the sweet party scene from the Chip & Charlie Party Stamp & Die Combo set with Copic markers to create this cute birthday card. She added the image to a background impressed with the Diamonds Piercing Plate and I love how Emily sprinkled several colors of Tiny Diamonds above the scene for confetti – so fun! The 'celebrate' sentiment is stamped in an ombre effect with by inking up the Get the Word Out – Celebrate stamp in a few shades of blue inks – mini ink cubes work great for this technique!
Kavya went all out to step up the birthday scene from the Chip & Charlie Party Stamp & Die Combo set! She added extra presents and birthday treats around the scene from the Bitty Borders stamp set. Kavya colored all of the images on the card with Copic markers and added details using a white gel pen. The trees in the background were created with the Birch Tree Border die and Kavya made tree tops with the Build a Scene – Rolling Clouds dies. The sentiment was put together with the Get the Word Out – Celebrate stamp (+ coordinating die) and the 'eat all the cake' sentiment from the Mini Strips – Birthday stamp.
Join ME (Heather Nichols) live for "T Time" at 10AM Central Time today on the Taylored Expressions Facebook Page. I'll be crafting with a few of the new products from the 13th Birthday release. I hope to see you there – come join in the fun! (Don't worry, if you miss the live you can always watch the saved broadcast afterward!)
That wraps up our 13th Birthday release inspiration using the new goodies! I hope you enjoyed everything we shared this week and are inspired for your crafting to celebrate upcoming birthdays. We can't wait to see what you create and hope you will share with on on the Fans of Taylored Expressions Facebook Page! Don't forget to join in on the Birthday Challenges that we have going on that you can enter on the fan page as well – you can enter the challenges through this Friday, September 17th! Next week, make plans to stop by the TE blog for more craft inspiration from a new kit that is debuting on Tuesday. I'll post a sneak peek for you this weekend!
Did you know that you can subscribe to our blog and get our posts right in your inbox? Just sign up right HERE – that's all there is to it to make sure you don't miss any of our crafty inspiration!