Sep 15, 2022
Hey, crafty friends! It's Heather here! Thank you so much for joining us to celebrate TE's 14th Anni-birth-ary! I am so excited about the new birthday products – was there something that caught your eye and ended up in your cart? The new Get Thready collection is one of my favorites and I love how it makes adding stitching to your projects so easy! The Get Thready – Starburst Cutting Plate die will work for so many occasions besides birthday too. It's perfect to celebrate a wedding, graduation, the 4th of July, and more. I can even envision the starbursts on the plate working as snowflakes for the upcoming holiday season…!
Speaking of the Get Thready collection, the Get Thready Bundle is the perfect way to get everything you need to start stitching – including a LIVE virtual class with Taylor! Check out the details below for the bundle and class as well as the exclusive freebie stamp set that we are giving away with all orders this week:
Right now through Sunday, September 18th, purchase the Get Thready Bundle (Get Thready – Sunburst Cutting Plate die, Bold Birthday die, Bold Birthday Backer die, 4 colors of embroidery floss, 4 floss bobbins, and tapestry needle) and get access to the LIVE class on Facebook (Friday, September 23 at 7:00pm) with Taylor (If you aren't able to attend the class live, a replay will be available to view afterwards)! In this exciting virtual class, you'll learn how to use the Get Thready – Sunburst Cutting Plate die using all of Taylor's tips and tricks! Get Thready Bundle available while supplies last.
Right now through Sunday, September 18th we are including a freebie Birthday Bash stamp set with every order! This cute set includes a birthday present, cupcake, balloons, party blower, and happy birthday words to create cards, tags, and more to celebrate birthdays in style! Make sure to check out the Exclusive Maker Challenge that you can participate in on our Fans of Taylored Expressions Facebook page. Offer valid while supplies last.
Click below to shop the new release items in the TE webstore and then keep scrolling for a video featuring a few of the new birthday products!
Today's video from Joy Baldwin features a cute and sparkly cupcake created with the Let Them Eat Cake Layering Stencil set (+ coordinating dies), framed with the Mix & Match – Drip & Dots Cutting Plate die, and a sentiment from the Happy Anni-birth-ary stamp set. Check out how Joy created this card in the video below: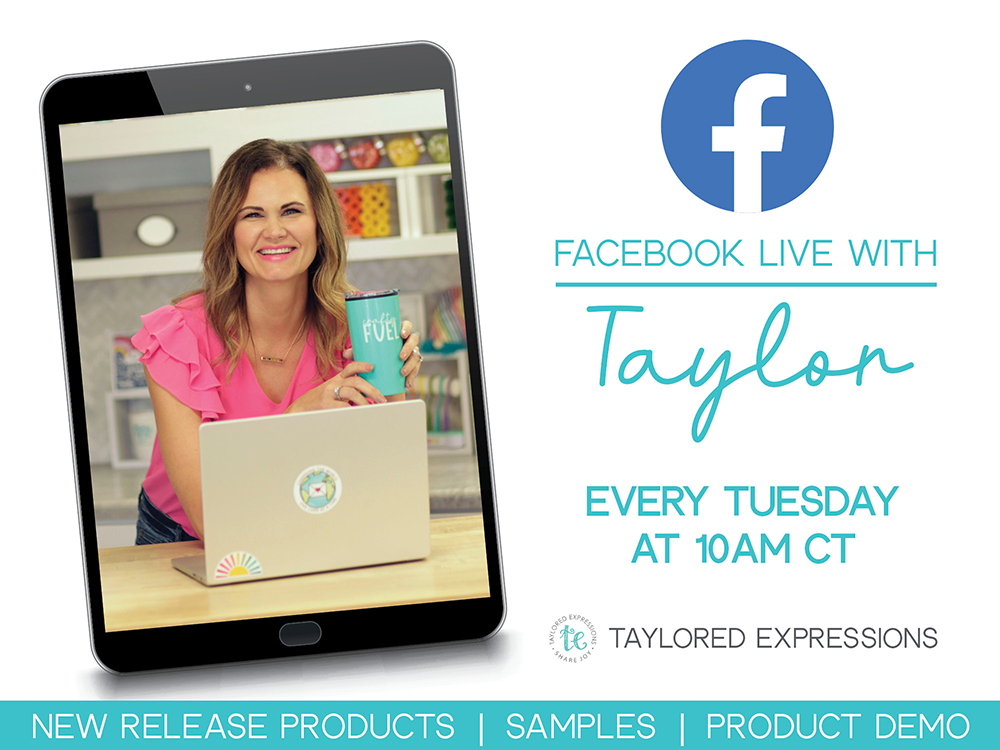 Today, Join Taylor live for "T Time" at 10AM Central on the Taylored Expressions Facebook Page. She'll be sharing a crafty project with you – come join in the fun! (Don't worry, if you miss any of our live broadcasts, you can always watch the saved broadcast afterwards!)
That wraps up TE's 14th Birthday Bash release! Share your card creations and more using the new birthday products with us on the Fans of Taylored Expressions Facebook Page – if you aren't a member of the group, come join us to see all of the crafty TE inspiration that is shared by your fellow TE fans. Make plans to stop by the blog next week to check out new releases happening in the TE Made for Me webstore – and if you were waiting for holiday options, you definitely want to check it out!